---

---
Adam Green is renowned around the globe as one of music's most unique and prolific songwriting talents – his songs have been performed by artists as diverse as The Libertines, Carla Bruni, Kelly Willis, and Will Oldham. A New York native, Green was only 17-years-old when he recorded and released his first album. As part of the downtown antifolk scene at the end of the nineties, he made up one-half of The Moldy Peaches, who enjoyed belated mainstream success via the Grammy-winning, #1 Billboard Chart ranking soundtrack of the 2007 Academy Award-winning movie Juno. As a solo artist, Green has recorded nine albums, many of which have become cult hits. His 2005 record Gemstones went Gold in Europe.
In 2015 Adam began a collaboration with Mich Dulce making a line of hats inspired by his artwork and the ALADDIN movie. The designs incorporate elements from his HOUSEFACE symbolic alphabet, a group of reduced cubist pictographs gleaned from the facial features of the popular cartoon characters Garfield, Big Bird, and Elmo. In January of 2016, he will exhibit the art from Adam Green's ALADDIN at the Fondation Beyeler Museum in Basel, Switzerland.
ADAM, HOW OLD WERE YOU WHEN YOU KNEW YOU WANTED TO GO INTO MUSIC?
I don't know. I was maybe nine years old when I started playing. My first instrument was a tuba. It takes a lot of air and my mum used to find me on the floor of my room passed out because I blew into [it] so hard. It just seemed like the most fun instrument that you could pick, and it had to have a little stand because I was too little to hold it. Then I switched to guitar. I think it appealed to me to play guitar because I heard that you can write songs on it. Also the opposite of when you learn the tuba, you have to learn how to read music, and then the guitar just came like a total break from that. I didn't even think of it that way. I just learned it by ear and I just enjoyed it, so I don't really know.
I probably didn't really realize I was going to go into doing music in that way until I was in high school or something. My high school band was The Moldy Peaches. I got pretty far with my high school band, but it was…I really knew no other way. I wasn't in a series of different bands. Basically, The Moldy Peaches was released by Rough Trade, which are home recordings. It was a lot of recordings from a span of seven years from when I was, maybe 12 to 19. It's a really large span of recordings that me and Kimya did from all in my parents house.
WHEN DID ROUGH TRADE SIGN YOU?
Around then, when I was 19. They basically released the equivalent of our greatest hits. I think that they were going to call it that. I remember getting a copy of the test pressing and it was called Greatest Hits. I don't know why that happened. I guess it's kind of funny because I remember when we went to England for the first time, we had done some interviews with i-D and The Face, and some different stuff. I hadn't even heard of these magazines because I'm from New York, so they came to my parents house and they took pictures of me and Kimya brushing our teeth in the bathroom and going to Central Park. When we finally got to England, we were walking around and people were like, "Oh my God. It's The Moldy Peaches." We had never ever had a fan before!
Rough Trade basically signed us and they whisked us off to England, and then we had a little following. Before then we only had played concerts for friends. Yeah, that's very cool. Number two. I do know this already, but I'm just going to ask because I'm going to put it on recording. Where were you born?
WHERE DID THE IDEA COME FROM TO MAKE A FILM?
I had this idea to make a real life cartoon. I had asked a bunch of people if they would be in it if I did it…Basically, it was like I wanted a psychedelic version of Aladdin, as an animated cartoon. You know what I mean? That was difficult to resist offers from people, and so we filmed it in a warehouse in Brooklyn two summers ago, and it became a community project where a bunch of people were stuck in a sweaty warehouse in Red Hook, Brooklyn.
There was a show when I was growing up that was on Nickelodeon, where kids would be in a video game. I think they would do it with a green screen. I don't know how they did it, but these kids would go into a video game, and I remember thinking that was really interesting. I guess ever since I got a cellphone I started feeling like I was part of a video game. For this movie I wanted to build a video game, sort of Second Life Universe for the movie to take place in it. That's it. The movie takes place in it… inside of this video game.
HOW DID YOU CHOOSE THE CAST FOR THE FILM? IT SOUNDS LIKE THEY'RE ALL FRIENDS, AREN'T THEY?
The cast? Well, you know, at some point, I had certain ideas for who should play the characters. Most of the cast is people that I know already or people who volunteered to do it. Let me think, with Jack Dishel, I was in the Moldy Peaches with him and he plays the sultan and Uncle Gary, two of the main characters. I worked with him on "The Wrong Ferrari" as well…my last movie. I definitely wanted to work with Jack, he's a comedic genius. I have to work with him on everything.
Natasha Lyonne (Orange is the New Black)…I showed her "The Wrong Ferrari" when I was done and she said she would do my next movie. I've know Natasha for a long time because I was her neighbor in Gramercy Park. Natasha is a world class actress that was just nominated for an Emmy. I really had to ask her to do it. I asked her five years ago to play my mom in a psychedelic version of Aladdin and she kept her word. She did it even though her career was going insane at the time she was getting nom- inated for the Emmy. She was having to go away to L.A. for the awards and stuff. She made this little time happen where she could be the mom. She's great as the mom. She's this crazy, pilled-out Valium mom. She plays it like a crazy sitcom mom. She's one of the best actresses of her generation probably. She's amazing. She didn't love the hair, but she was really cool about it. It looked great but I think it was difficult to act with it. Anyway, she was very gracious about it.
Well, you know, like Bip Ling for example, she's from England. I wanted someone to play the princess and I had this idea that the princess could be like a Kardashian. I was thinking Bip Ling was the obvious choice. Bip Ling is sort of like an Andy Warhol superstar of the internet. I just thought that she could add a subversive kind of edge. On one hand, she's living this crazy decadent life, getting photographed all the time and partying. Her Instagram is just so surreal and insane, you know? It's so subversive, I thought it would be an interesting combination.
Let me see. It's also Alia Shawkat, who plays Emily, Aladdin's twin sister. Alia is almost like a silent film actress in a certain way. Almost like a reincarnation of Giulietta Masina from the Fellini films. She's also a multidisciplinary artist. She is a painter and a musician as well. She really had that access were we were coming from. There's Macaulay Culkin, and Toby Goodshank, who's a props master on the movie, and he was in the Moldy Peaches with me. We have an art collective called 3MB, which stands for Three Men and a Baby. Doing an interview with Macaualy Culkin is sort of an extension of just what we do our ventures and stuff.
Francesco Clemente, yeah, I didn't know him. I just thought he would be a great genie. I just thought he looked like a genie and I learned how to draw pictures of Frances- co, looking at his painting and drawing. He's an influence on me but I didn't know him. Actually, it was Alia Shawkat and him. They sent me to the studio and I convinced him to be the genie.
Har Mar is the funniest character. He plays a British rugby guy who's sort of loosely-based on a Libertines hang around. Some kind of character you might meet in the Libertines' dressing room. That voice that Har Mar does is something he's been doing for years. I remember driving around late at night and he would just do that character. I just really wanted that character to be in the movie.
OKAY, NEXT QUESTION. THE TOUR, NEXT YOU'RE IN NOTTINGHAM. WHY DID YOU CHOOSE MIDLAND [UK]?
It's crazy. I don't know. I want some tour schedule, you know? My wife's British, you know? That's the beginning. I'm getting more access to my British cultural heritage. I pride myself on been to all the English towns, and I don't want to lose all the credibility. You get into some of the deeper towns like Leicester and Norwich. I want to be an England expert. I like to look at art a lot in different towns, so it should be fun.
SHERWOOD FOREST KEPT POPPING UP.
Yeah, exactly. Well, you know, I dressed as Robin Hood in the Moldy Peaches, so that's always been a special place for me. I remember when we first went to Nottingham. I was really starstruck by the site.
We're playing Midlands. That'll be fun. I painted a backdrop and I'm going to dress as Aladdin for the tour. It's going to be an Aladdin-themed tour.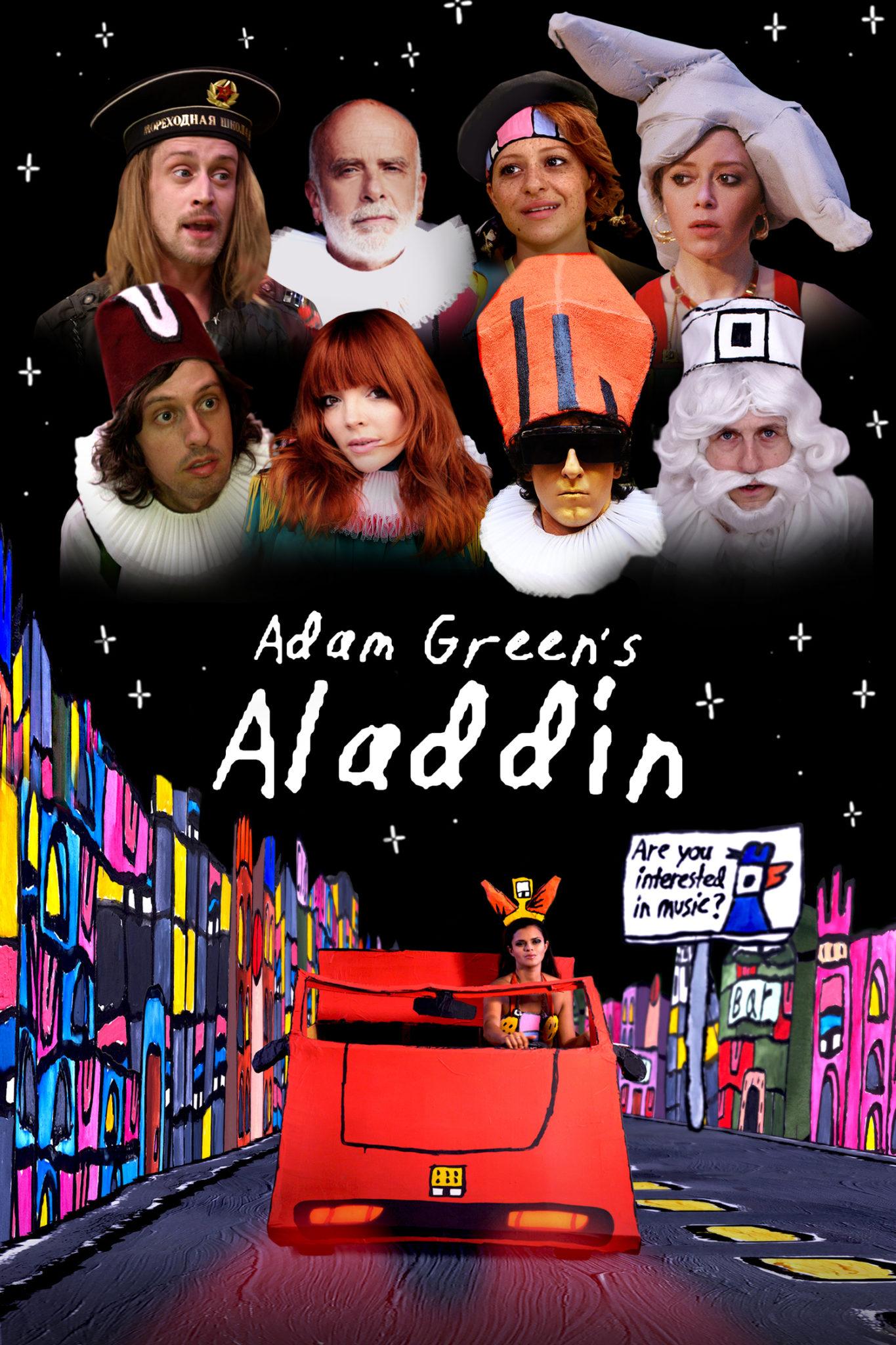 For more info on ALADDIN tour dates
click here: http://www.bandsintown.com/AdamGreen