---

---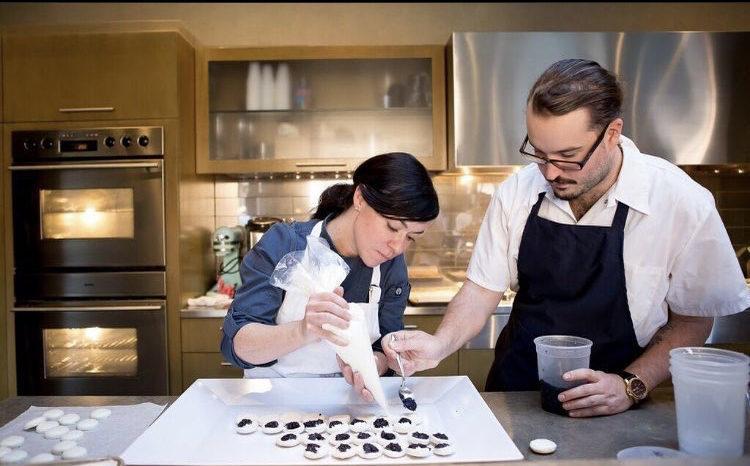 BLACK DAHLIA: Candy and the Science of Bliss

Arriving fresh out of the candy lab, Taryn Garcia makes the life of a confectioner sound just as surreal as the childhood mind imagines; it's the life of an artist, chef, and mad scientist, all rolled into one.
Head chef along with Greg Bernhardt for the new CBD company, Black Dahlia, Taryn reveals some behind-the-scenes processes of candy science as the company prepares to launch in the next couple of months.

"We're doing some reformulations with the hard candies and lollipops to improve their shelf life. It's purely sugar-related. When you get to temperatures that are what is considered 'hard crack'—above 302 degrees—it's this crazy thing of thermodynamics. It gets to a temperature where it creates structure, but then after a period of time, that structure breaks down because the molecules attach to the humidity inside of the candy. So I spoke to my friend Alex Ott – super interesting biochemist who also works for NASA from time to time when they need food and beverages for astronauts going to space. We contacted another confectionary chemist as well, so we can cross-reference what they are saying and come up with a solution. We're still waiting on the complete reformulation, but we're starting to test some of the new ingredients with it and they're making them taste even better, which is great."

Taryn refined her cooking skills in Paris, where she attended pastry school before moving back to New York to start her top-of-the-charts Macaron company, Vendome Macaron. Vendome Macaron was her first venture into food entrepreneurship, and was soon rated "Best Macaron in the City" by the New York Times. So she definitely knows the secret to making confectionary delights to please the most discerning crowds.

In addition to mastering the behavior of sugar, the Black Dahlia team are also incorporating the now-legal CBD compound into their chocolate. CBD, short for cannabidiol, is one of the primary active compounds in the cannabis plant purported to have healing benefits. Unlike THC, the more famous psychoactive compound found in cannabis, CBD does not make the user "high". Rather, CBD is advertised to help soberly reduce anxiety, depression and sleep disorders, among other human perturbations. There is evidence that CBD has been used medicinally (or ritualistically) since around 750 B.C., according to the New York Times.

My first question is whether all CBD compounds on the market are created equally. And the answer, of course, is no. But luckily for Black Dahlia, the company founder is a scientist who makes his own CBD compounds from scratch, so quality and attention to detail is guaranteed.

Dr. Daniel Young, Black Dahlia's founder, is an MIT-trained research scientist specializing in systems biology, autoimmunity and neuroscience. Before starting his own company, Dr. Young worked in the biotechnology sphere:
"In my work in pharmaceuticals, I found that the majority of treatments do not address the underlying causes, but rather treat symptoms and more superficial aspects of diseases and ailments. As we come to understand the body's innate cannabinoid system (endocannabinoids), we start to realize that this endocannabinoid regulatory network plays a pivotal role in our body's immune system and hormonal regulation – fundamental aspects to health and wellness."

Research into the endocannabinoid system is fairly new. It was identified in the early 90s by scientists researching the THC compound and recognized as a complex cell-signaling system that plays a role in many regulating processes such as sleep, mood, appetite, memory, pain perception and fertility. The system exists in the human body independent and regardless of cannabis use.

As a research scientist focused on health and wellness, Dr. Young became fascinated with the possibilities of the endocannabinoid system and decided to conduct his own research into developing cannabinoids.

Working with nanotechnology, Dr. Young developed his version of nano CBD, a microscopic version of the CBD compound that can penetrate and bind to the endocannabinoid system faster, delivering the effects quicker and more efficiently.

Black Dahlia will be officially launching in the next few months, selling in select stores in New York and Los Angeles. Until then, you can purchase their products online at blackdahlia.co, and follow them on Instagram @blackdahliacbd.