---

---
NICO HIRAGA
ACTOR/SKATEBOARDER
Nico Hiraga is a 23-year-old actor and skateboarder from the West Coast, making waves not only in the acting world, but in skating as well. You may have seen him playing Seth in the 2021 film Moxiem, directed by the fabulous Amy Poehler. Or as Tanner in the 2019 film Booksmart. Hiraga has many more upcoming roles in the can, and we were super excited at Reserved to feature this young talent! Photography by Randall Slavin. Stylist BJ Panda Bear. Men's grooming by Danielle Piersons. Studio manager True Behrendt. Assistant Bing Putney. Interview by Bonnie Foster. Photographed in Los Angeles for Reserved magazine. https://www.instagram.com/nicotheduffer/?hl=en
Can you tell us a little bit about your background? Where you grew up? A favorite childhood memory?
I'm half Japanese half White and, of course, some other European-ness falls in there on the White side. I'm from San Francisco, California.
I don't really have a favorite childhood memory, but one that sticks out of the top of my head would have to be me outside of my Granny's house when I was super young with my cousins. I just remember them blowing my mind teaching me so many curse words. And me just jotting them down.
How was it working with director Amy Poehler?
A dream come true, honestly. I never really thought I would be an actor, but I think being an actor now, it's an actor's dream to work with that woman. She is an absolute Saint. So it's kind of like one of those things that got crossed off the bucket list.
What was your favorite scene to shoot in Moxie?
I really liked the scene when I was just skating around the courtyard, 'cause that was just me in my natural habitat. It didn't really feel like work that much.
How did you land your role in Booksmarts?
Allison Jones is an absolutely amazing casting director, and she brought me into the casting right away with Olivia. I only did one audition for it in the room, and I guess Olivia was super stoked on it. And Olivia and Allison are both Super Power Houses. I didn't feel nervous at all going in. I was just like, "Olivia Wilde? Wow. She's so fucking rad." Even just being in the same room as those two…it was only like five minutes, but I wish I could have just chilled and sat in there for two hours and just chopped it up. But yeah, basically I auditioned once, and I got the role. It was super straightforward, and I was so hyped.
Do you find any similarities between skateboarding and acting?
They both wear you out, and they both make you pretty tired. They're both work. Skating doesn't feel like a job, acting does…but they both definitely take practice for sure. They both take serious practice.
What have you learned from your success as an actor and as a skater?
I guess…when you put your mind to something, you can really do anything. Growing up skating, I really wanted to be a successful skateboarder. And when I started getting paid, I was like, "Oh, amazing". It's not all about the money of course, but definitely it was a highlight for me when I knew, "Okay, I'm good enough to actually make money from skating." So that paid off a lot. And acting too…it was just putting my mind to it. And about the success, I learned that it's just the beginning. I learned that it's just the beginning and there are no walls, you can always go beyond. Things are gonna take off, you just gotta keep on pushing it. It's just like an ongoing train.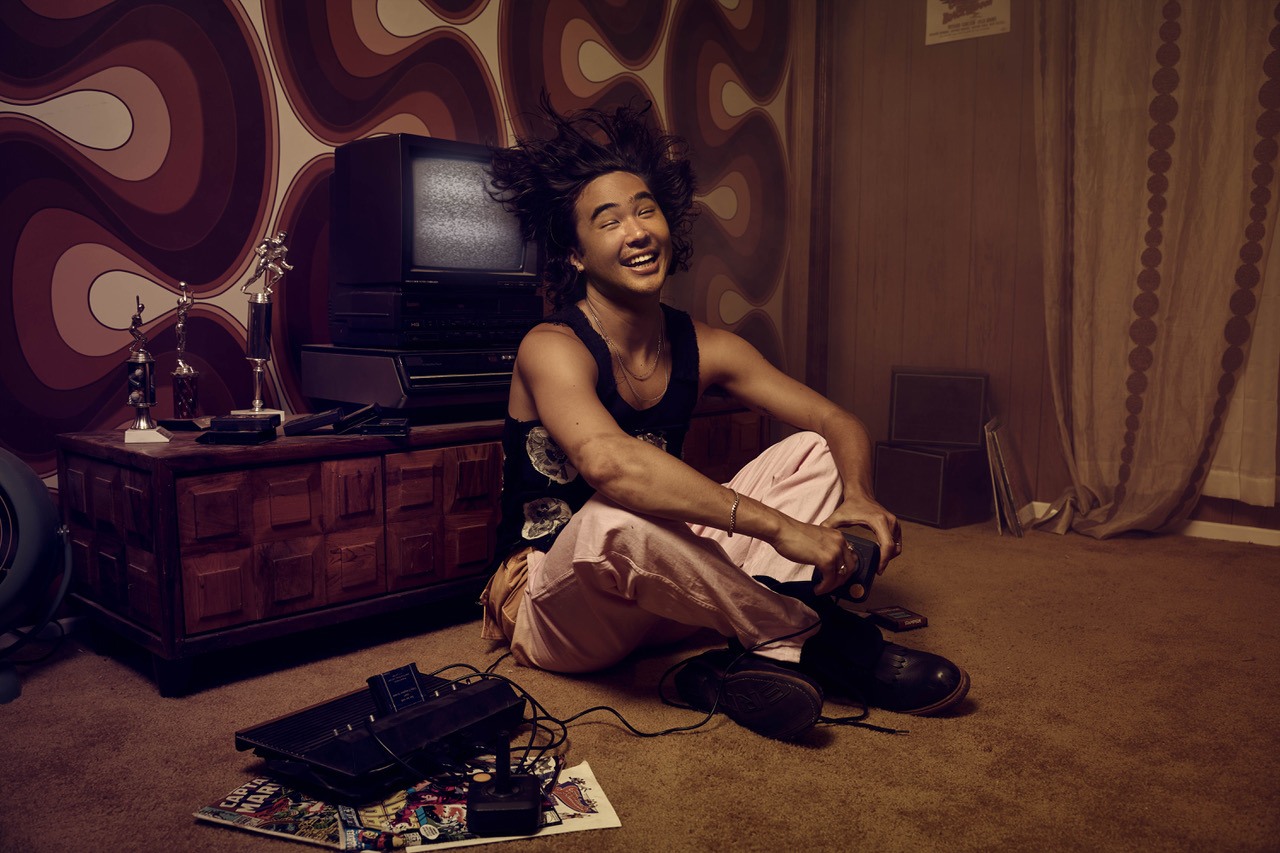 What do you think is the most important message to take away from Moxie?
That's a tough question because there are so many different ones. I almost feel like I can't answer that because there's not a most important one. "Respect others". "Don't suffer in silence". "Love those around you". "Stand up for what you believe is right". Those are just the ones coming off the top of my head but there's so much more.
Do you feel like working on the film changed your perspective at all as a man?
Yes. I feel like going into it, I was already pretty familiar with all of that stuff, but definitely working on a project was such a powerful message, and definitely increased my knowledge around it for sure. And being around all such powerful women on set too…that was very inspirational in itself. It was such an important message that we all were like, "We need to fucking kill this movie because this shit is serious".
What's next for you?
Skateboarding. I'm going to release a couple of parts, and I'm dealing with some injuries right now. So doing a lot of physical therapy and skating a bunch. I also have a TV show coming out in 2022 called The Power. I'm excited about that. It's for Amazon, and it's my first TV show ever. And then Hello, Goodbye, and Everything in Between comes out soon, too. That's a movie that I worked on last year with an amazing cast, an amazing director, and that should come out maybe later this year or early 2022. I'm not quite sure. We're kinda waiting on that one. But it's gonna be good. I'm excited. So, a couple more films, a TV show, and then hopefully I'll just keep on doing movies and TV shows, and while I'm doing that…skating as much as I can.