---

---
Jacquemus bra and Supriya Lele pants.
Fresh face
Gabriela Quezada
, is one of the lead role's on CW's
Walker Independence
, an origin story for their hit show Walker, set in the brash Wild West of the 1800's. Quezada plays Lucia Montero, in a situation-ship with Hoyt Rawlins (Matt Barr), a lovable rogue and sometimes criminal. Not only this, she recently wrapped The Locksmith, alongside Kate Bosworth & Ryan Philippe; as well as First Love with Diane Kruger & Harry Potter's Hero Fiennes Tiffin and Post Malone produced High Heel. We got in 5 questions with the busy actress as we chat about the west and women's rights.
There's been a resurgence in the Western TV show after the success of Westworld. How has it been shooting a Western? Were you a fan of the genre before?
It's been so fun. The costumes, the set, the animals, having to deal with the natural elements, all really put you back in time and give you a little taste of what life might have been like back then. Of course at the end of the day I get to take a hot shower and put on comfy sweats, but it is fun to be able to pretend for a little bit! Apart from watching reruns of Little House on the Prairie and Bandidas, I was never really exposed to Westerns growing up nor did I even know that it was its own genre! It wasn't until the last few years that I really began to start watching more Westerns.
In the first few episodes of Walker that have aired, a lot of your narrative is around the chemistry between Lucia and Hoyt, despite his illegal escapades. How has it been working with your co-star Matt?
Matt is the best. He was the first actor I met when I joined the project, and he took the time to really make me feel welcomed and comfortable. I think good onscreen chemistry really comes down to trust which I certainly feel with him. And despite his character being a bit of a screw up in Lucia's eyes, Matt plays it in such a lovable way that it's like how can Lucia resist?! He's a total puppy dog!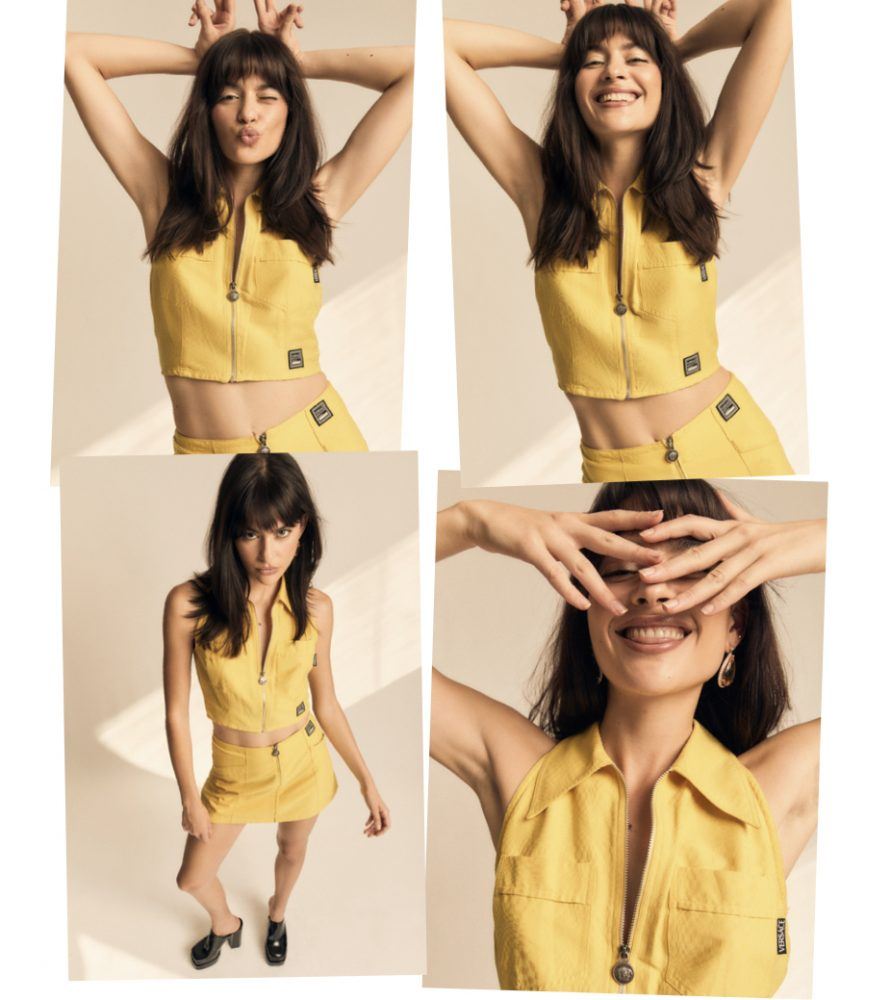 Vintage Versace top and bottoms.
You're no stranger to big network shows with past credits on ABC's The Goldbergs andSchooled among others. Being cast as a recurring lead role in a series is a huge get for a young actor. Were you thrilled?
Of course! It's really fun being able to have an arc that takes place over a whole season which is new for me and gives me more to work with. After we got picked up, Seamus, one of the show's creators, gave me an idea of where Lucia's story would go but I still have no idea what to expect episode to episode which keeps me on my toes. I am so lucky to be on a show surrounded by such good kind people from the cast to the crew to the producers and everyone in between.
You've had a lot of big roles opposite the Hollywood A list in the past few years. What's been your favourite?
I have a film coming out in the near future where I play a femme fatale like character opposite Ryan Phillippe. Without giving too much away, it was the first time I got to play a role where I had agency and got to explore anger and grief and using my sexuality as power which was thrilling for me. I hope to be able to dig into more roles like that in the future!
Miu Miu jacket, top, and skirt.
Your Instagram lists you as pro-choice and Reserved recently did an event with Planned Parenthood in New York. Could you speak more to this?
Oooof… I don't even know where to begin with this one. As if the last 5 years weren't scary enough we are now being hit with this major setback for women's rights with the overturning of Roe vs. Wade. Abortion is healthcare. This decision will put millions of lives at risk which goes to show the hypocrisy of the pro-life movement. No one has any right to determine what a woman should do with their body except the woman themself, period end of story. To be honest I think that the recent ruling has far more to do with power hungry politicians than "saving" unborn babies' "lives." It's so enraging I could say so much more but I'll leave it at that.