---

---
Khadija Neumann is the statuesque leader and modernist auto-muse with her wide spreading projects running the gambit from entrepreneur, activist/ philanthropist and of course designer. The former runway model shows us how she still commands the lens in this shoot by Marc Baptiste for Reserved! Featuring iconic suiting as well as a punch of color.
Left: Body Suit, hat, necklace, and shoes by Saint Laurent. Earrings and bowtie by Khadija Neumann. Right: Coat and necklace by Alexander McQueen. Shoe by Tom Ford. Earrings and rings: Khadija Neumann.
Bonnie: Could talk a little bit about your background – where you came from, how you grew up, where you grew up?
Khadija: I'm from Senegal, Africa. I left in 1996 to Switzerland, and after Switzerland, I went to Paris. I was modeling in Senegal a little bit but when I came to Europe it just took over.
Bonnie: How did you get involved in modeling in Senegal?
Khadija: People would make clothes and call me, "Do you want to model some of my things?" That's how it started. So I learned fashion in Senegal, and my mom was a designer too. She made all of our clothes when we were little. I always loved fashion; that was my dream.
I was a big fan of Monsieur (I called him Monsieur) Yves Saint Laurent, the designer. And I loved Katoucha Niane – she was one of the muses of Yves Saint Laurent, and she's from Senegal. I had pictures of her and Yves Saint Laurent everywhere in my room. It was always my dream to be a fashion model. And my first show in Europe was with Yves Saint Laurent. It was unbelievable.
So that's the thing; I think everything in life is possible if you put your energy into it. I had a dream as a young girl and I made my dream come true.
Left: Top by Khadija Neumann. Hair Piece by Michal Negrin. Right: Jacket and pants by Khadija Neumann. Bra by Victoria Secret. Bag by Alexander McQueen. Shoe by Cesare Paciotti.
Bonnie: Were your parents supportive of your decision to pursue modeling?
Khadija: I had a very great support of my parents. They always said, "You can do anything you want if you want to." They were such amazing human beings; they always supported their children no matter what they wanted to do. But of course you had to do it. It doesn't find you in your room. If you don't go get it, you cannot have it.
When I moved to Switzerland, I was with an agency there and I was telling the agent I wanted to go to Paris. That it was my dream to work for Armani, for Ungaro, for everybody. And she looks at me—it was so unbelievable but it changed my life, so I'm happy she did it—she looked me up and down and said, "Nobody will want you." And I was like, "What?" And that day, I left the agency. I went home, packed my luggage, and went to Paris. That was it.
And when I got to Paris I called all the agencies until I got a meeting, even if it was only 5 minutes.
Bonnie: You recently started a foundation called Dream Baby. Can you tell us a bit about your mission?
Khadija: We started Dream Baby to help children in Africa pay for operations that they need. Some kids, unfortunately, have health problems but their parents they cannot afford to pay for it. So I opened this foundation to help them get the operations they need.
It doesn't cost anything to help, and people need it. And it's not just Africa; it's even here in the United States. I think life is not just for you, you have to help others as my parents did.
I owe it to my dad because he was an amazing guy. He built the first blind hospital in Senegal, and also a handicapped hospital. He was an advocate of a lot of things, so I just followed in his footsteps. Rest in peace, he passed away. That's life. But I'm proud and I'm happy. And I think that every day.
Left: Suit by Saint Laurent. Shoes by Louis Vuitton. Hat by Atmosphere. Necklace: Khadija Neumann, Louis Vuitton, Alexander McQueen, and Saint Laurent. Earrings and rings by Khadija Neumann. Bracelets by Lisilerch, Alexander McQueen. Right: Suit by Tom Ford. Jewelry same through out.
Bonnie: A lot of the clothing in the Reserved feature were your own designs. Is your clothing available for purchase anywhere, or do you mostly sew for yourself?
Khadija: No, I will sell it. I have already some clients but I of course want to build more. The clothing will be available on my website, www.Khadijaneumann.com, when we are ready. But that is all coming soon.
Bonnie: You have so many careers – modeling, clothing designer, and now running a foundation. How do you find time for everything?
Khadija: I love to be busy. In Africa, they teach you to do a hundred things at once. I cannot focus on just one thing. Now I am doing another project too – a coffee table book with my husband, who is a photographer. And I have two production companies. I am always busy; I don't have time. And that's great because my brain is always working on something. I cannot sit down, I never take vacation, I always work. For me, vacation is like a waste of time.
The brain can be working on so many things, because in my country we have 12 languages. I speak eight languages myself, and that's the beauty of education.
People when they say Africa, they think you are in the street, like sleeping outside. But we have education, and we have beauty, and it's beautiful. I love my country.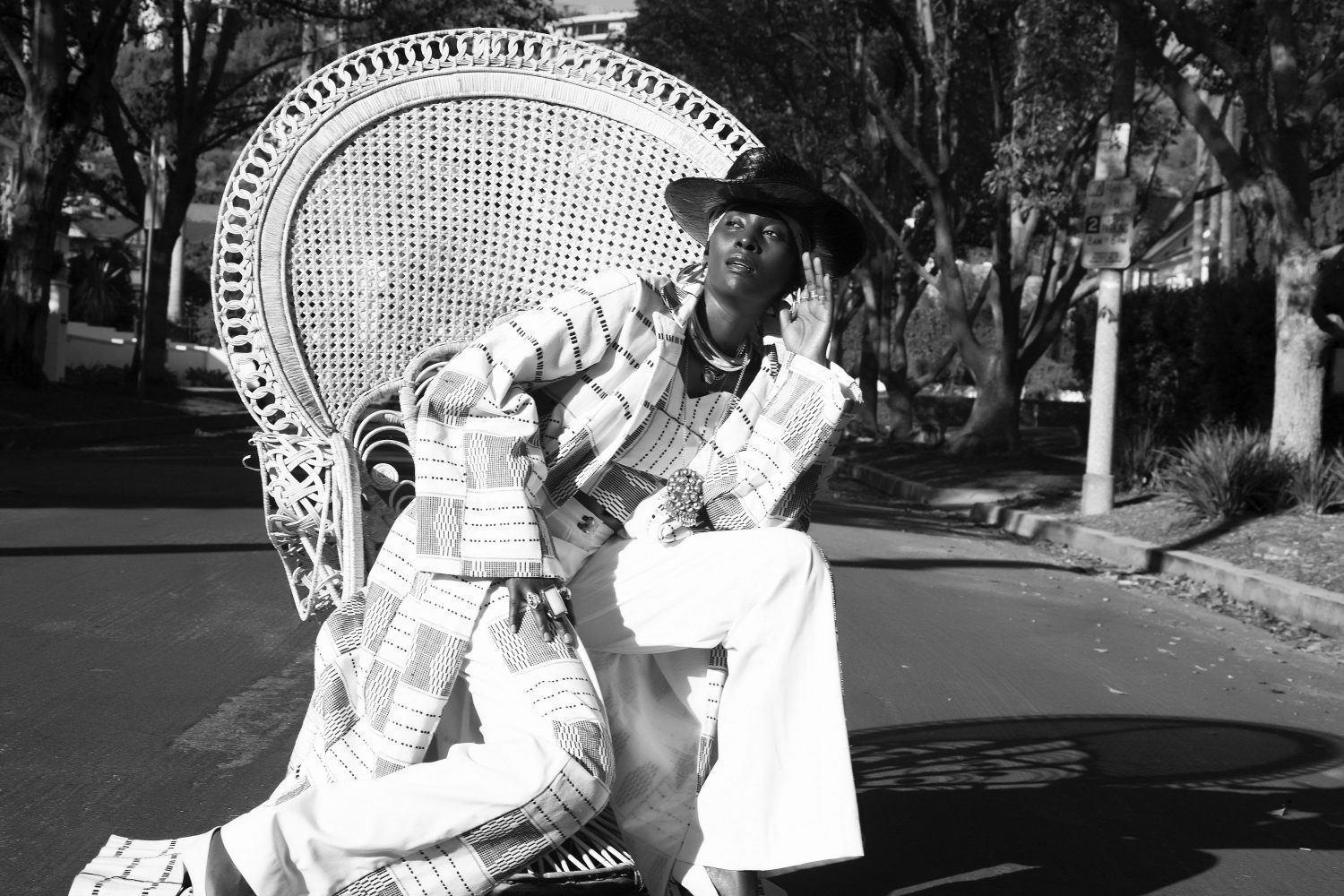 Clothing, hat and jewelry by Khadija Neumann. Shoes by Tom Ford.
Bonnie: It has really been an honor to meet you. Is there anything else you're working on that you want to mention?
Khadija: Yes…the name for the new foundation, Dream Baby, comes from a film series we want to do—me, my husband Andreas Neumann, and our two partners Bruce McAllister and Benjamin McAllister. The project is based on the novel by Bruce.
Bonnie: Are you currently shopping the project around?
Khadija: That's right. And I always want to empower women, so I want the series to be directed by women. The main character is a woman, too. So that's the next project. I'm really fighting for it because it's an amazing story.
You can follow Khadija's work and creations on IG @iamkhadijaneumann. Her clothing designs will be available for purchase soon on her website, www.khadijaneumann.com.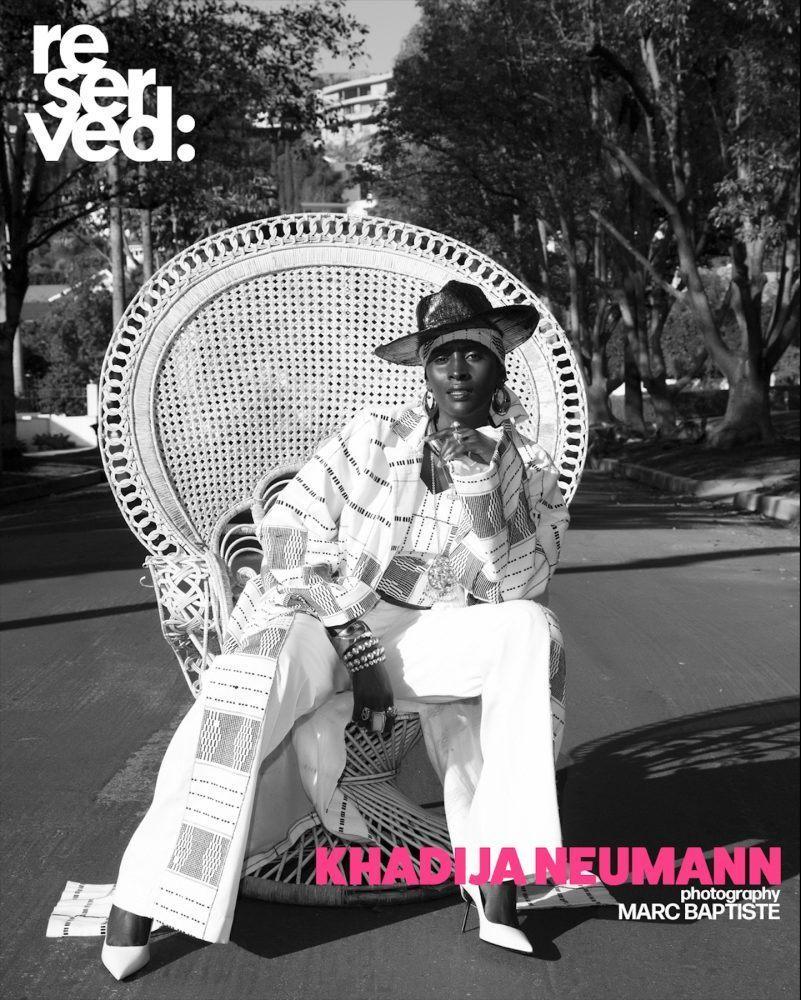 Interview by Bonnie Foster
Photographer Marc Baptiste
Stylist Melvin Sanders
Makeup Artist Krischelle