---

---
CHRISTEENE
"DRAG TERRORIST"
"CHRISTEENE is drivin tha car now haaaaay . . . "
Thus spake Paul Soileau as he metamorphosizes into CHRISTEENE, his long-standing alter ego. The performance artist has been inhabiting this "feral beast" for more than a decade. When CHRISTEENE appears, the temperature in the room changes and audiences are transported into her world, a celebration of grimy filth and stank where inhibitions melt away. For those in the know, CHRISTEENE is one of the most exciting performers working in the art and music scenes today, with the likes of Rick Owens and Peaches counting her as a favorite and a legion of new fans rising out of the younger generations. Her new record Midnite Fukk Train was made with Brooklyn noise veteran Ben Greenberg, and received critical acclaim for its aggressively political and sexualized lyrics, as well as its stunning musical tableau of glam rock-meets-saxophone-laden freakout, with operatic drama and soulful histrionics thrown into the mix. She is the latest signee to the ground-breaking label/management company House of Feelings, and is getting ready to embark on tour with the similarly-minded Fever Ray in May. It would not be quite accurate to say that 2023 is shaping up to be her year, as she exists a world apart from any standard measurement of "famous" or "influential." And yet, as anyone on the outside looking in can see, CHRISTEENE is rising up from the muck and bringing it with her.
CHRISTEENE sat down with Jack James Busa, lead singer of UNI and the Urchins, to talk about her roots in Austin and how she navigates the cruel realities of today to make lasting, affecting art.
CHRISTEENE: I'm one of those freaks who schedules meetings at like 3:02 because there's a church across the street from where I'm stayin' and the bells go off and Jesus interrupts everything.
JACK JAMES BUSA: Jesus interrupts a whole lot in my personal experience.
CHRISTEENE: Everything, always. I was lookin' all y'all's business up and I saw you were here [New York City] too, which is crazy because I have not seen a show of yours yet.
JACK JAMES BUSA: Well we [UNI and the Urchins] haven't done any. We did one at House of Yes a few weeks ago, but we stopped touring before the whole Covid thing.
CHRISTEENE: Oh me too.
JACK JAMES BUSA: And then I just realized I'm not carrying much equipment upstairs anymore.
CHRISTEENE: You don't have equipment upstairs?
JACK JAMES BUSA: No I'm so sick of carrying it up and down stairs that we've stopped a whole lot of shows because I'm like "ohhh my back hurts."
CHRISTEENE: I thought you meant how smart you were.
JACK JAMES BUSA: Oh no, I'm an idiot. (Both laugh)
CHRISTEENE: I thought you were sayin' you don't carry a lot of equipment upstairs, like your intelligence. I was like finally someone I can relate to. I was excited!
JACK JAMES BUSA: How was the [Reserved mag] shoot by the way?
CHRISTEENE: It was really fun. I didn't mean to be a door closer on you being there, but I like to kind of get down with photographers. It's always a strange thing. And I'm quick about it. I like to jump in fast and then figure it out slowly. It was really a wonderful shoot and I was really really happy. There are certain shoots that happen that really go to a place that you had no expectation of it goin'.
I think we really captured some images that I was personally very satisfied with and so was Alexander [Thompson]. And Alexander's been around a long time and the apartment was full of photos of many friends of mine from the olden days, so that was really fun to see a lot of people on the walls and in polaroids. So I knew that I was kind of somewhat in a family, establishment I dunno. There's a lot of assholes in everyone's families so you don't know what kind of family . . .
JACK JAMES BUSA: Family nonetheless!
CHRISTEENE: Yes family nonetheless, I knew I had a seat at the table, so I took it.
JACK JAMES BUSA: He [Alexander Thompson] has a quality about him. I've shot with him before and you do feel a kinship, and he understands people like us.
CHRISTEENE: He's really patient, and he's like you may use these, but I can tell if you've used this shit before I've touched it, and I was like "I like that." So I'm kind of curious and interested to see what his touch is.
JACK JAMES BUSA: Well we're all interested in Alexander's touch for sure.
CHRISTEENE: I'll take any touch these days. Please bring the touches.
JACK JAMES BUSA: I'm so excited to get to talk to you. I've been a fan for a long time but I heard of you first, when I was growing up in Austin. How long did you live there?
CHRISTEENE: Thirteen years!
JACK JAMES BUSA: Holy Moly.
CHRISTEENE: That's where I started thinkin', and that's where I came into existence. I'm only fourteen years old. Thirteen-ish. I'm just entering my adolescence.
JACK JAMES BUSA: Yes you don't look a day over twelve!
CHRISTEENE: Thank you! Austin is kinda where I came out of the dirt or whatever the fuck. Very great, formative years there, but after thirteen years, it was time to go.
JACK JAMES BUSA: That's kind of how I felt too.
CHRISTEENE: Were you born in Austin?
JACK JAMES BUSA: Yeah I was born and raised in Austin, and then I stayed through high school and then I was like, "see ya later." But, there is something about it and I know for me obviously it was formative because that's where I was formed. But what about that city brought you up from the dirt as you say? Or brought this persona or however you want to classify it?
CHRISTEENE: I mean, I like to call Austin the Mordor of Texas. It's a very strange place. It is very liberal I guess, to a degree, and there are lots of hippies. The community that I came into was very mixed. I have very close friends. My very dear wifey of mine Silky Shoemaker always was functioning the city, creating gatherings for everybody in the family like the fags, the dykes, the trans fam, the creatures without a name fam, all congregating in one place, like in the backyard at Bouldin Creek. Things like that. And I was like, what is this strange place where the people within my family are not segregated into their own bars and such?
Being in that wretched state, being in this cool bubble in a very hot lava dangerous state. I just think you can't help but create some very vivid, fucked up shit if you really tap into that kind of environment. There's the underground springs, the water's clear for some reason. I don't know how it's possible, it's just a very strange place. But, at that time, it was very welcoming and it was very strange. Not so much anymore.
JACK JAMES BUSA: It's very different now.
CHRISTEENE: Yeah I mean it's just like, cities are cities, and they change, some of them change better, some change bad, and some just get greedy. And that one kinda got greedy.
JACK JAMES BUSA: Oh definitely! You're right, everything changes, and I hear people say "Oh the old New York" or "the old old New York," and I'm like "Fuck it, everything's going to change" . . .
CHRISTEENE: Yeah, I wouldn't live in New York if it didn't fucking change all the time. There's better ways to change, there's like healthy ways, there's ways in which to preserve culture and preserve neighborhoods and not fuck with neighborhoods where you don't belong and shit like that. A city like Austin or New York has so many artists and creatives within it, it will always change. Olden days? I'm like "what the fuck do you want the city to do?" Things die and then come back. I mean I love history, tell me all your stories about old New York, but don't beat me over the head with the fact that it doesn't exist anymore. You're just screwin' a dead horse right there.
JACK JAMES BUSA: Andy Warhol is dead, I'm very sorry.
CHRISTEENE: He is dead, but there are a sure lot of people walkin' around with big white hair so . . .
JACK JAMES BUSA: Myself included. But you're not from Austin, where are you from?
CHRISTEENE: I was just born in Austin, that's all I have to say about myself.
JACK JAMES BUSA: Alright, I got you.
CHRISTEENE: Thirteen years ago I came outta Austin and poof here I am. I don't know how, I just navigate. Something brought me here. I'm here, I love it, it's great. And I just follow my gut, whatever my fuckin' gut tells me what to do.
JACK JAMES BUSA: You're very very funny, and I've followed you for a while, and the imagery is obviously so striking but you're so funny and so kind. I guess what I'm asking is, how do you find people react to you?
CHRISTEENE: Well I mean, look I like to talk about some serious fuckin' shit onstage. I like to bring in creative narrative and fantastical narrative, metaphorical crap. It's all about this world and this shit we're going through, and you're never gonna get people to even engage if there's no humor involved in that shit. If a stinky fuckin' baby doesn't want to eat their fuckin vegetables, what does their fucking stupid parent for having a baby do? They make it into a little airplane and they go "naaaaaa" and then the baby's like "ahhhhh I'll fuckin eat anything!"
And so, you have to think about everyone's brain is so super-saturated with so much shit. It's in my opinion much better to think in a different way to discuss very important things, but also fuckin be able to fuckin laugh at the same time and find some kind of humor between us. I like to make people laugh. I'm an old show hog. I'm an old old tambourine. If I hear one giggle I'll start shakin' shakin' shakin', so I am a slut for laughter. It's a challenge, but it's also a beautiful way to make people deal with some serious shit. And I enjoy that and I enjoy being kind to people who deserve kindness. And I'm always gonna give you a fuckin' chance. And ya know, if you wanna fuckin' burn that bridge, I'll walk away quickly and just never look back.
JACK JAMES BUSA: I love that philosophy. Where does that come from for you?
CHRISTEENE: Well, I think a lot of people who maybe obtain some sort of a platform upon which to speak or to share, that is maybe of a larger size, or someone who has interests in social media realms that catapult them to maybe a larger speaking platform. I think the worst thing that can ever happen is people in those positions either become inaccessible or they just lose touch with reality. Like look at Barbara Streisand. She doesn't know, she doesn't understand what the fuck we do. But you totally know that that woman's world and understanding of the world is very different from a human being's and no one can relate to that shit or get close to it.
I think that it's really important to stay close, just to be attainable, and to walk out into the room before your show, and to walk out into the room after your show, and not be a backstage diva. So, I dunno, I'm inspired by the accessibility of self. It can be very dangerous, you can put yourself in some fuckin weird situations sometimes, but you learn from that shit. It's not like it's always gonna be sweet and happy. So if you're gonna do this type of crap, you might as well get ready for some rough shit too.
JACK JAMES BUSA: I feel you. I'm in a very Barbara Streisand . . .
CHRISTEENE: I think you're very much sporting a Barbara Streisand "One Voice" look…when she did that concert in her backyard called "One Voice". She had a white turtleneck kinda drip thing goin' on and you are very much doing that. I applaud. I applaud.
JACK JAMES BUSA: She went on the Oprah Winfrey show . . .
CHRISTEENE: And painted the mic!
JACK JAMES BUSA: I love it.
CHRISTEENE: She's crazy!
JACK JAMES BUSA: I fucking love that.
CHRISTEENE: She's about to release her thousand-five hundred-page autobiography and I saw some captions, speaking of humor, that said "Gay man postpones his own suicide to read Barbara Steisand's one thousand-five hundred-page book." I thought that is pretty much it right there.
JACK JAMES BUSA: Do you know what it's called?
CHRISTEENE: I think it's "My Name is Barbara." It's just that, it's just a picture of her fuckin' face. She doesn't even have a title.
JACK JAMES BUSA: You should write a book! When's yours coming out?
CHRISTEENE: I've been entertaining an idea for fucking years, and seriously my friends are sick of hearing about it. I want to make children's audiobooks. I wanted to do very nice children's audiobooks, as nice as I can be to teach very valuable lessons to kids from my point of view in the very fucked up world we live in. And I want to narrate them.
JACK JAMES BUSA: Of course, and there should be a little animation of you in it and you can buy a little CHRISTEENE doll! I see big things.
CHRISTEENE: I just wanna draw. I'm not sellin' dolls. The only doll I have is, my friend Kook – this crazy witch, she lives in New Orleans now, and she built a doll for me. But it's like the devil doll. It's got like an acorn from a tree inside of its butt and it's got like spells in it. It's weird, it's somewhere in there.
JACK JAMES BUSA: I wanna play a little game with you if that's alright.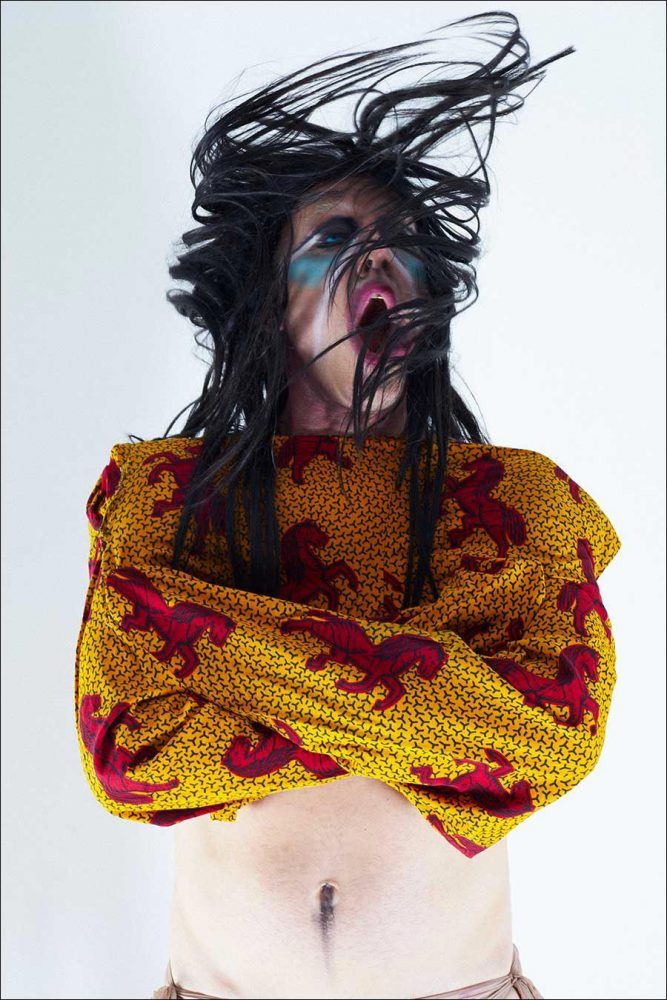 CHRISTEENE: Oh yeah oh sure.
JACK JAMES BUSA: It's not too complicated. Have you ever seen the show "Inside the Actor's Studio?" So he asks these ten questions at the end.
CHRISTEENE: Okay so this is the James Lipton Actor's Studio Ten Questions?
JACK JAMES BUSA: Yea I'm ripping him off. What is your favorite word?
CHRISTEENE: Poubelle. That means trash can in French.
JACK JAMES BUSA: What's your least favorite word?
CHRISTEENE: Manifest. Hate it.
JACK JAMES BUSA: What turns you on creatively, spiritually, or emotionally?
CHRISTEENE: Survival.
JACK JAMES BUSA: Survival. Why survival?
CHRISTEENE: Don't ask me a double question! James Lipton never did that!
JACK JAMES BUSA: Well James Lipton's dead!
CHRISTEENE: Survival's really fascinating to me. I think all humans and animals, everything's got its own makeup, it's own chemical structure, genetic structure, whatever the fuck, its own rock from the big bang, and survival is a very personal thing. It's a very instinctual, personal thing, and I like to witness, as well as explore my own, ability to survive. I'm very fascinated when shit gets really wild, how people survive, what they do in that act of survival. Who's with them, who do they take, what do they do? And when times are hard, when the world gets fucked, how do you survive, when we're all living in a shitty apartment for three years. How do you survive? I'm always excited and inspired when people get through extreme hardship and survive.
JACK JAMES BUSA: There is something about tenacity, like if you're watching a movie or something and they go through the whole journey and they survive and tenacity is what brings things out, a little tear from your eye. Next question is what turns you off?
CHRISTEENE: Arrogance. Hate it. It's rude.
JACK JAMES BUSA: What's your favorite curse word?
CHRISTEENE: Fuck. I love fuck. Fuckin' this, fuckin' that, fuck. And it's universal, fuck is fuck.
JACK JAMES BUSA: What sound or noise do you love?
CHRISTEENE: Purring.
JACK JAMES BUSA: What sound or noise do you hate?
CHRISTEENE: A very loud noise, unexpected noise, like a loud scream, a loud crash, anything that's unexpectedly loud. Like when you're sound-checking and it goes "BUHHHHHHHH" if somebody fucks up or pulls a cord out. Any unexpected loud noise. It's like a piece of my fuckin soul falls off. It's like a piece of your brain falls out if you do poppers. A piece of my soul falls off when I hear a very abrupt loud noise.
JACK JAMES BUSA: What profession other than your own would you like to attempt? Although you're really primed for this!
CHRISTEENE: Some sort of animal care. Work on a horse ranch for poor horses or go work with some poor animals.
JACK JAMES BUSA: You're not gonna say, venture capitalist? What would you absolutely not wanna do?
CHRISTEENE: I would not want to fly a plane. I wouldn't want to be a pilot. I don't understand the pilot thing. You're in this tube, and it's full but you're in the very front in this tiny little room with tiny little windows with this whole thing behind. And the responsibility of that . . .
JACK JAMES BUSA: A little tin can.
CHRISTEENE: Sooner or later I'd lose my mind, so fuck that shit.
JACK JAMES BUSA: The last question. If heaven exists, what would you like to hear God say when you arrive at the pearly gates?
CHRISTEENE: First of all, fuck God. And I don't believe in pearly gates, so I guess I would like "God" to say . . . "These gates were once the gates belonging to the famous actress Faye Dunaway in her Hollywood estate. You may now open them and enjoy whatever's behind them."