---

---
SHAO
S/S 2024
Born in Taiwan, designer Shao Yang moved to Brooklyn, New York when she was just five years old. As a first generation child, her parents made sure their daughter had the chance to reach the American dream. Yang attended the famous LaGuardia High School for Performing Arts, after which she was accepted into the Parsons School of Design, where she studied fashion. After graduating, Yang spent some years designing for bridal and eveningwear companies, eventually becoming the design manager for the groundbreaking, new age formalwear company, My.Suit. Yang then had a stint in Hollywood getting involved in multiple TV projects, after which she returned to New York in 2014 to launch her first brand, The Tailory, a bespoke, high-end, genderless suiting company. And now, with the monumental 2023 debut of SHAO, a powerfully sexy and strong ready-to-wear line, Yang is poised to become the newest thought leader in the realm of genderless fashion, suiting, and style.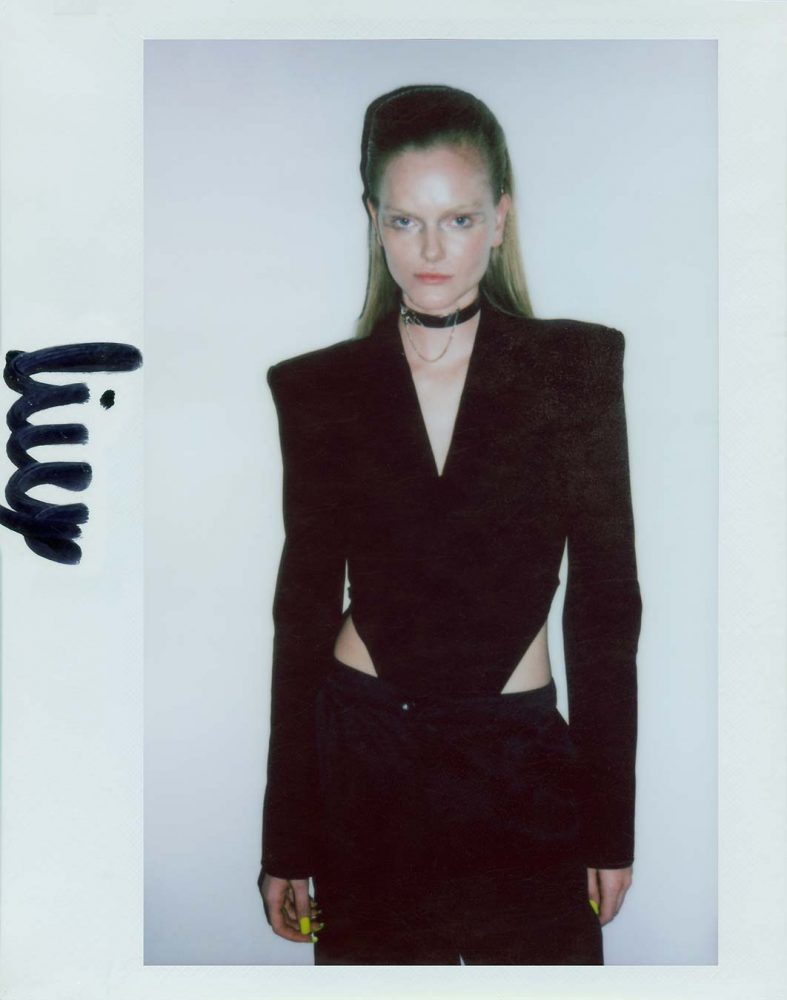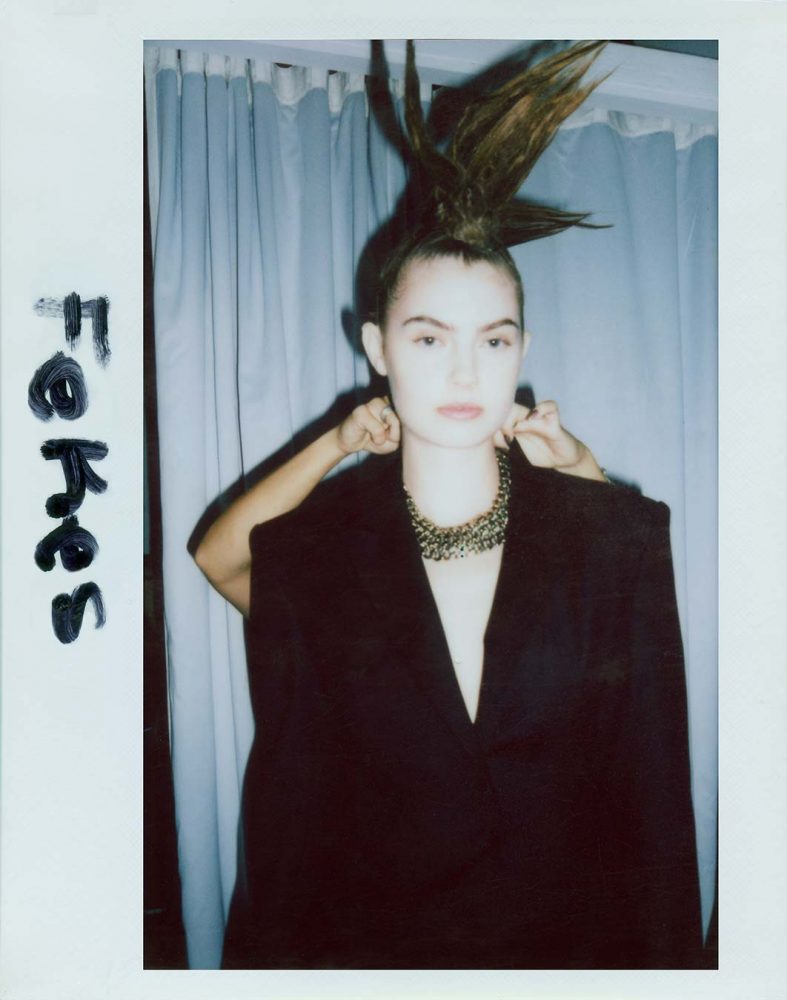 How did you get started in the fashion industry, and what inspired you to become a fashion designer?
My interest in fashion started at a very young age. My parents were very fashionable and I remember always raiding their closets to put on their new items. I was also very fortunate to grow up in Taiwan where it is the norm to get all of your clothes custom-made. The most exciting time of the year for me is the Chinese New Year, when I was allowed to design a new outfit for myself. My favorite outfit from my childhood that I designed, was a navy tailored peacoat dress worn with an extra large scalloped collar white dress shirt.
Tailoring has always been a part of my design DNA. As a fashion designer, I am very inspired by my everyday surroundings and the mundane moments of everyday life. It can be the look of a shirt falling off the shoulders, pants that are way too big and need to be safety pinned together, being really cold and putting on a random sweatshirt to create a cool layered look or simply scrolling through TikTok. Since I work with individual clients on a daily basis, I am also very inspired by the conversations that I have with them.
What is your design philosophy or signature style?
Custom tailoring and suiting techniques are definitely my signature style, which I apply to everything, even if I'm designing casual pieces like a t-shirt. My belief is that quality design starts with a strong foundation. Biasedly, I am a firm believer in the Malcolm Gladwell 10,000 hours theory, mainly because I have put in the time. My reflection is that I developed my foundation by prolifically designing thousands of unique high-end pieces throughout my approximate 20-year career.
How would you describe your creative process? Where do you find inspiration for your designs?
My creative process always starts with doodles and note-taking. My phone is full of screenshots of images I like, doodles that I sketch on napkins or post-its, to concept ideas that I write down. When I am ready to sit down and start designing, I will spend hours reading over my notes perusing my collected images, and start sketching which will eventually evolve into a full collection concept. My initial sketches usually never make it into the final collection. Fabrics and trims usually come after my sketches since I focus more on silhouette and design first and then choose fabrics and trims that will work into the design and not the other way around.
Can you tell me about your latest collection or project? What was the inspiration behind it?
My latest collection is the debut collection of my namesake label Shao. It is inspired by my Brooklyn roots, the diversity of NYC and a lot of the '80s since I'm an '80s baby. It was also very important for me to spread the idea of inclusivity and diversity in my collection and have it be a collection that is gender-free and can be worn by everyone and anyone on the gender spectrum. In this collection, I envisioned the diverse NYC that I grew up with and love. Each garment tells the story of one character. It can reflect the style of the NYC club kids or the hardcore style of '80s Bensonhurst Brooklyn to the style of goth and punk rock. While the designs are diverse in inspiration, everything is tied in and comes together with my love of tailoring.
How do you stay updated with the latest fashion trends and industry developments?
I don't follow trends, so I can't say that I am updated with that. I do keep up to date with the industry and its developments as I am very interested in the business side of fashion. I read a lot about the fashion business.
What materials and fabrics do you prefer working with? Are there any specific reasons for your choices?
Because my background lies in custom tailoring, I prefer working with natural fabrics like wool, wool blends, silks, silk blends and pure cotton. It took over 10 years but I have developed a great network of mills in Asia, the UK and Italy. I have access to great luxury materials.
How do you approach the balance between creativity and commercial viability in your designs?
When I started my career, it was definitely a hard balance to find but it comes naturally to me now. My experience in custom tailoring and working with clients one-on-one, balancing creativity and commercial viability is at the core of what I do and is now second nature. For me, it is one of the most important aspects of being a successful fashion business.
Are there any particular challenges you face as a fashion designer in today's industry? How do you overcome them?
I think there are a lot of challenges designers feel in today's industry. For me particularly, I think being an Asian women designer, especially in custom tailoring is one of the biggest challenges. When I first started in the industry, I was never really taken very seriously even though I was in a managerial role. I was mistaken many times for being the seamstress or simply in my position because of nepotism. "How can I be an expert in suiting and tailoring as a woman?" was the common question asked of me. The old saying of being twice as good as your job to prove yourself rang very true for me. I've always had to be twice as good and work twice as hard to get any respect and acknowledgment from my peers and clients.
As I embark on a new label, I am faced with new challenges. In a world saturated with fashion brands old and new, how do I make the brand known? I was fortunate enough to work with Kelly Cutrone and People's Revolution to cut through all the noise!
How do you ensure sustainability and ethical practices in your design process and production?
Being an Asian designer and business owner, I think there are a lot of stereotypes and assumptions about unethical practices in my business. So I make it a point to be very transparent with my process, the manufacturers that I work with and how I run my business. I also frequently visit my factories and mills to ensure that I am partnering up with companies that have the same standards and values as me. As a custom tailor, it is very easy to be sustainable since everything is one of a kind and there are no inventories which equates to little to no waste. As I launch my new ready-to-wear line, I am thinking of ways to keep the label more sustainable. I think choosing the right fabric partner will play a huge role in my sustainability efforts. Three mills I am working with now and for my new label that are extremely sustainable in their fabric production efforts are Vitale Barberic Canonico, Gladson New York and Dormeuil.
Can you share any memorable experiences or highlights from your career as a fashion designer?
I think two of the most memorable experiences in my career are starting my own bespoke tailoring company in 2014 and launching my own namesake line this year. My debut fashion week show with Anna Delvey and Kelly Cutrone was epic!
Are there any fashion designers, past or present, who have influenced or inspired your work?
I absolutely love John Galliano, Jean Paul Gaultier, Alaia and Alexander Mcqueen.
How do you collaborate with other professionals, such as stylists, makeup artists, and photographers, to bring your vision to life?
I am a believer in trusting the process and letting the experts do their thing. When I work with other fashion professionals, it is always a collaborative effort. I tell them what my inspiration is for the collection and I let them come up with the artistic concepts.
What advice would you give to aspiring fashion designers who are just starting their journey?
Stay true to your design ethos and DNA. Being Authentic and true to your voice is one of the most important values as a designer and brand.
How do you see the future of fashion evolving? Are there any emerging trends or innovations that excite you?
I think fashion is always evolving and innovating and recycling, so that in itself is what makes fashion exciting. One aspect of the fashion industry that is really exciting for me is the move towards diversity and inclusion. I love seeing the gender-expansive collections and diversity on the runway and marketing efforts. Another innovation that is fairly new and that excites me is the use of technology. I still believe in the heritage art of producing fashion but having the ability to use technology to produce fashion faster or having the ability to measure clients remotely all over the world is a game changer.
Can you share any future projects or collaborations that you're excited about?
I'm most excited about building the Shao label. I am already designing the new collection for NYFW in February!
How do you feel now about the overall show, Kelly Cutrone having Anna Delvay as a co-producer, and all the publicity helping you as a new designer to be noticed with so many other brands debuting during NYC fashion week.
Kelly Cutrone is an ICON! So being able to work alongside her for my debut collection is one of the most exciting, memorable and proudest moments of my career. When she pitched me the idea of launching the collection with Anna Delvey and her under the new agency, Outlaw, I knew it was going to be pure gold and it was. I am still in awe of all of the press surrounding the collection and honestly, there is nothing else that I could have done that would garner this kind of success.
clothing: shaonewyork
production Kelly Cutrone & Anna Delvey
photographer: alexander michael thompson
stylist Jules Wood
hair Ted Gibson
make-up Kabuki
nails Pattie Yankee