---

---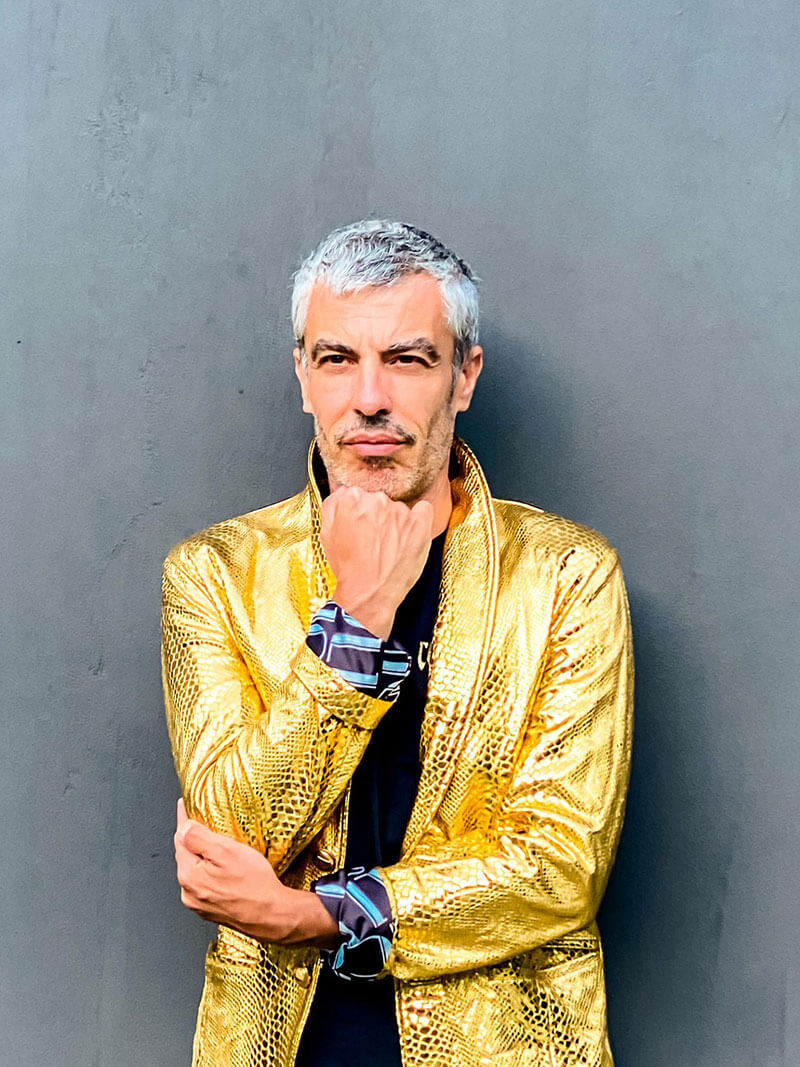 COLLINI MILANO 1937 Spring/Summer 2021
NO ONE IS INNOCENT.
No one is innocent. Our collective experience has revealed a common destiny, a shared responsibility, a connected humanity. With the awareness that the simple pleasures of life are the most precious. And a new priority: to add beauty and gratification to everyday life.
COLLINI in its own way contributes to this new mindset, providing the simple pleasure that derives from dressing in superb materials and fabrics, allowing the creation of a distinctive and personal identity to be savored in solitude or in intimate company, as well as on the public stage.
COLLINI'S internalized glamour for spring/summer 2021 is inspired by the childlike joy of a traveling circus, complete with imaginary creatures who inhabit this new reality. Stylized animal prints and textures become new classics, from the logo subtly integrated between black zebra stripes on gutsy green and leopard spots on bold turquoise to luxurious golden crocodile jacquard. A perfect synthesis of high and low, Couture and Street.
COLLINI dresses the new urban animal, a glamourous creature, an eccentric survivor and an everyday rockstar.
The COLLINI man dons a black and white zebra print techno anorak complete with removable spiked shoulder chains and matching face mask in a renewed interaction of maxi volumes over new classic silk trousers and leopard striped sneakers. Or a pin striped lurex jacket in bordeaux over military green trousers trimmed in bordeaux lateral stripes and white rubber soled and embroidered camperos. Or even a tuxedo jacket paired with soft suede jogging pants, taking subtle inspiration from Haute Couture. This is COLLINI'S street smart glamour wear.
The COLLINI woman relishes her everyday couture wardrobe. From the ethereal lighter than air bronze colored gown slit to the waist combined with contrasting satin short shorts and a metallic spiked bolero to a jacquard tailleur featuring animal texture effects in 3D, a result of ongoing fabric innovation aiming to surprise and delight each season.
Trapeze artist inspired mini dresses in golden jacquard or in shiny rust colored satin, while silk features animal and COLLINI chain prints, iconic symbols of strength and resistance, for both maxi ruffle sleeved blouses and mini bustiers. Bold shiny hues from guacamole green and lady pink to Ionian turquoise are unexpectedly combined with earthy tones including Milanese rooftop inspired terracotta. Gold and silver alternate, defining and accentuating COLLINI'S glam rock image.
Shoes are both bold and functional, enhancing each look and easily combining with dresses as well as shorts and trousers. Sneakers are principally unisex, models feature varying heights, these street staples are characterized by bold colors and luxury details. Camperos, another Collini cult item, transform into white leather sneakers embellished with stylized black flame embroidery.
Animal prints and detachable chains are this season's treat , and in particular the Slash features an allover animal print , sole included, creating a paw like foot designed to roam the urban habitat.
For women, sensuality and comfort are key, heels are high and wide, ensuring a secure and seductive gait. Sandals combine a sturdy leather upper with glitter heel. The new iconic boot is silver python embossed with calf defining fringe, while sleek thigh highs turn biker style with knee slits for carefree movement . And even more thigh highs in animal prints with detachable ankle chain, soft and scrunchable for day or night.
Bags combine couture luxury and street smarts, becoming glamourous survival kits because you never know what might happen next.
The unisex leather weekend traveler, a new entry this season, is animal embossed, with white double handle and shoulder strap borrowed from the sports world and features detachable and practical mini bags, allowing the wearer to customize and accommodate every need in style.
Crocodile and python embossed leather and detachable chains and charms feature in the new backpack, the regular or mini smart briefcase, and new tote bag, while the iconic Havana is now available in a daytime long fringed version realized in the new bold color palette.