---

---
TITS DICK ASS
"GF FROM HELL"
They say that after a national disaster, New York comes back into fashion. With masks gradually coming off and nightlife limping back into existence, there are whispers that it is happening again. All the pent-up energy percolating from the months of lockdown and the stops and starts of artistic life is slowly but surely pouring back into the streets. The music is getting better, harder, cooler, and more fearless again.
Tits Dick Ass are at the forefront of this new movement. As part of the ground-breaking, genre-bending label/management concern House of Feelings, Tits Dick Ass produce a powerful mix of deconstructed backbeats, careering bass lines, droning guitar tones, and vocal discordance. Fronted by Julia Pierce, their lyrics critically explore her experiences as a trans woman, and draw from the feminist works, "Whipping Girl" by Julia Serano, "The Female Troubadour" by Meg Bogin, and Lilith and Pan mythology. Bassist Seth Sosebee and drummer Tom Person create a frenetic, speaker-shredding backbone, summoning the spirit of outsider art punk.
Their new video, "GF from Hell", is the first single for their forthcoming album Burn a Bitch and is premiering here on Reserved. "Girlfriend From Hell" was shot at Brooklyn venue Rubulad by director Dylan Greenberg, who had this to say about the shoot:
"All of these great friends came and basically made the film into a mad party. That day was very hot, and there was a small air conditioning unit but with the amount of people in the venue it just didn't help, so everyone was drenched in sweat. Despite the best efforts of the fantastic makeup artists, the horns kept coming off of Kristin [Cooper], the actor who played the Girlfriend. I think all of this helped add to the video, it feels like a fantasy punk concert shot in Hell's nightclub."
It reminds one of "Smells Like Teen Spirit," turned on its head and fast-forwarded through a modern-day time warp by a new generation of punks. They will premiere the video at their release show at The Broadway in Bushwick on Valentine's Day.
Here is the band in a variety of looks shot by Alexander Thompson in a Brooklyn loft. They were interviewed by Chase Lombardo from Cumgirl8, another NYC band on the rise, with whom they share a manager.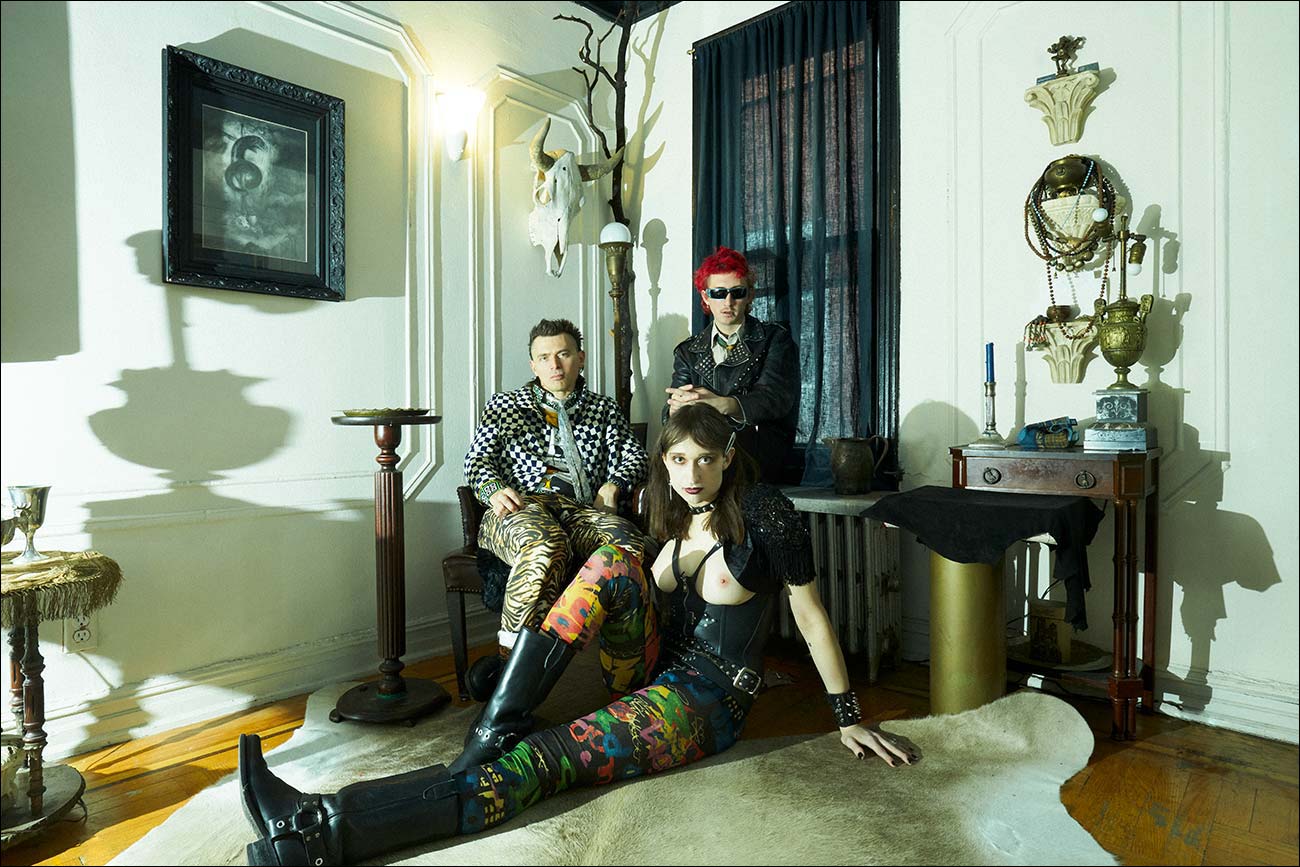 Chase Lombardo: Fuck, marry, kill: Tits Dick Ass?
Julia Pierce: Fuck tits, marry ass, kill dick.
Chase Lombardo: Would you rather play a show in heaven or hell?
Tom Person: Hell. The energy would be off the charts. It's closer to the places we've played.
Seth Sosebee: Hell gets a bad rap.
Julia Pierce: Heaven or hell. Don't know how to tell.
Chase Lombardo: Where's the most hellish place you've played?
All: The Pearl in New Orleans.
Seth Sosebee: Which is no longer there.
Julia Pierce: We played the last show there ever during Mardi Gras. Somebody broke in through a window during our set. Shards of glass everywhere. Our amps were so wrecked from the pit that by the last song it was just Seth and I screaming into one mic, while Tom played drums and the room was still going ape. I think the intensity of our sound came from this, seeing people behave non-human for a moment. It's like should we keep playing?
Tom Person: I love when the crowd energy is so overwhelming as a performer you're hanging on. Julia had 2 chipped teeth by the end of the show. Seth was body-blocking people from running into her.
Seth Sosebee: The crowd totally absorbed the stage. Felt like the walls were gonna come down. That's probably where it spring boarded. Showed us we could be something else. When you first play shows as a band, people have their arms crossed standing still and that's fine. But now we had something to prove. It made it more real.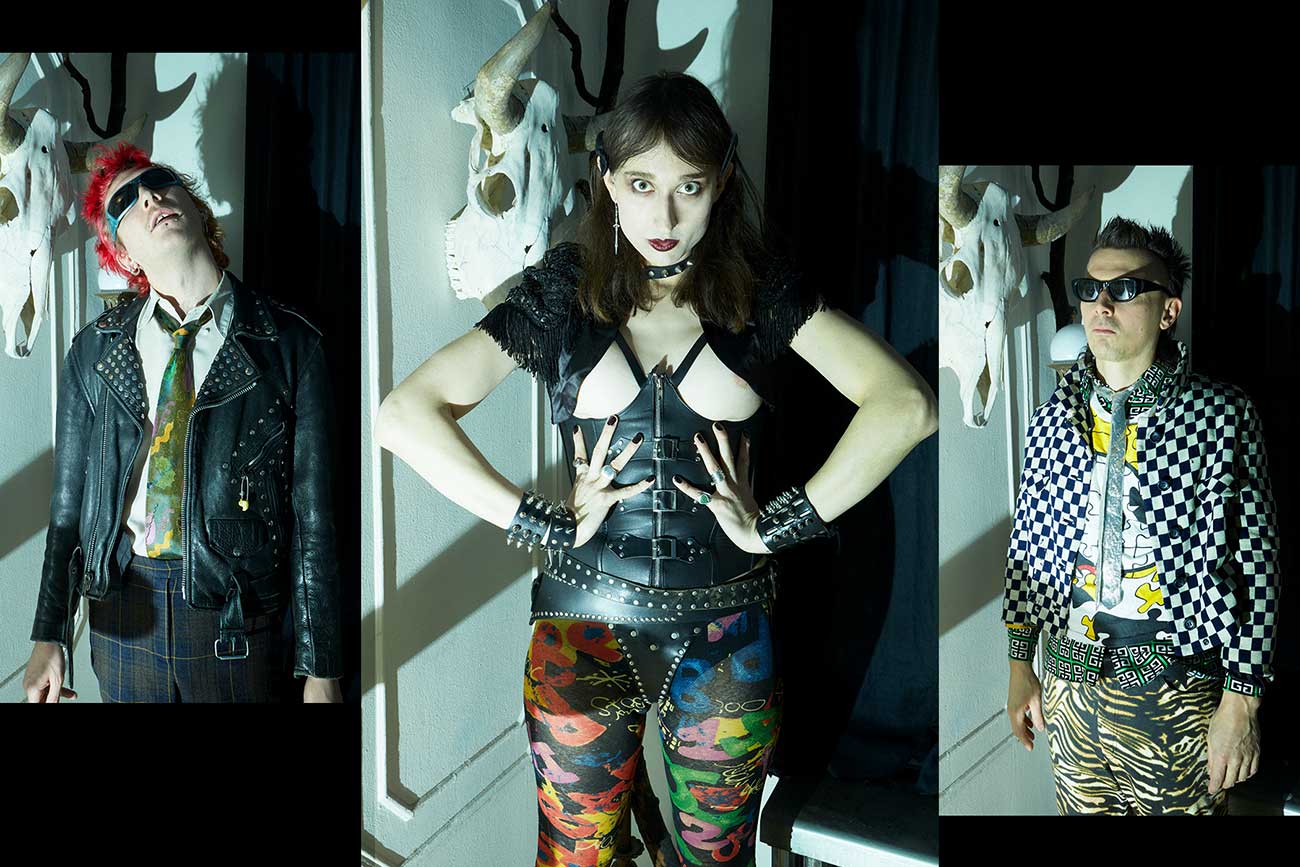 Chase Lombardo: What's your favorite song to listen to when you get dumped?
Tom Person: "New Rose" by The Damned.
Julia Pierce: "Lament" by Chris and Cosey.
Seth Sosebee: I'll probably go for something like Tammy Wynette. The last time I was heartbroken I listened to a lot of Roger Miller and this Waylon Jennings song called "Only Daddy That'll Walk The Line.
Julia Pierce: Ooh. Actually can I say "It's My Life" by No Doubt?
Chase Lombardo: It's a year from now, y'all went double platinum, career is at an all-time high, but you're starting to lose your creative edge. You go to South America and do one of those ayahuasca trips, you're on drugs, and you have to go back in time and adopt yourself as a 13-year-old. You open the door to their room, what are they listening to?
Seth Sosebee: Too Fast For Love or Operation: Livecrime by Queensrÿche.
Julia Pierce: Is This It or Dookie.
Tom Person: The Smashing Pumpkins.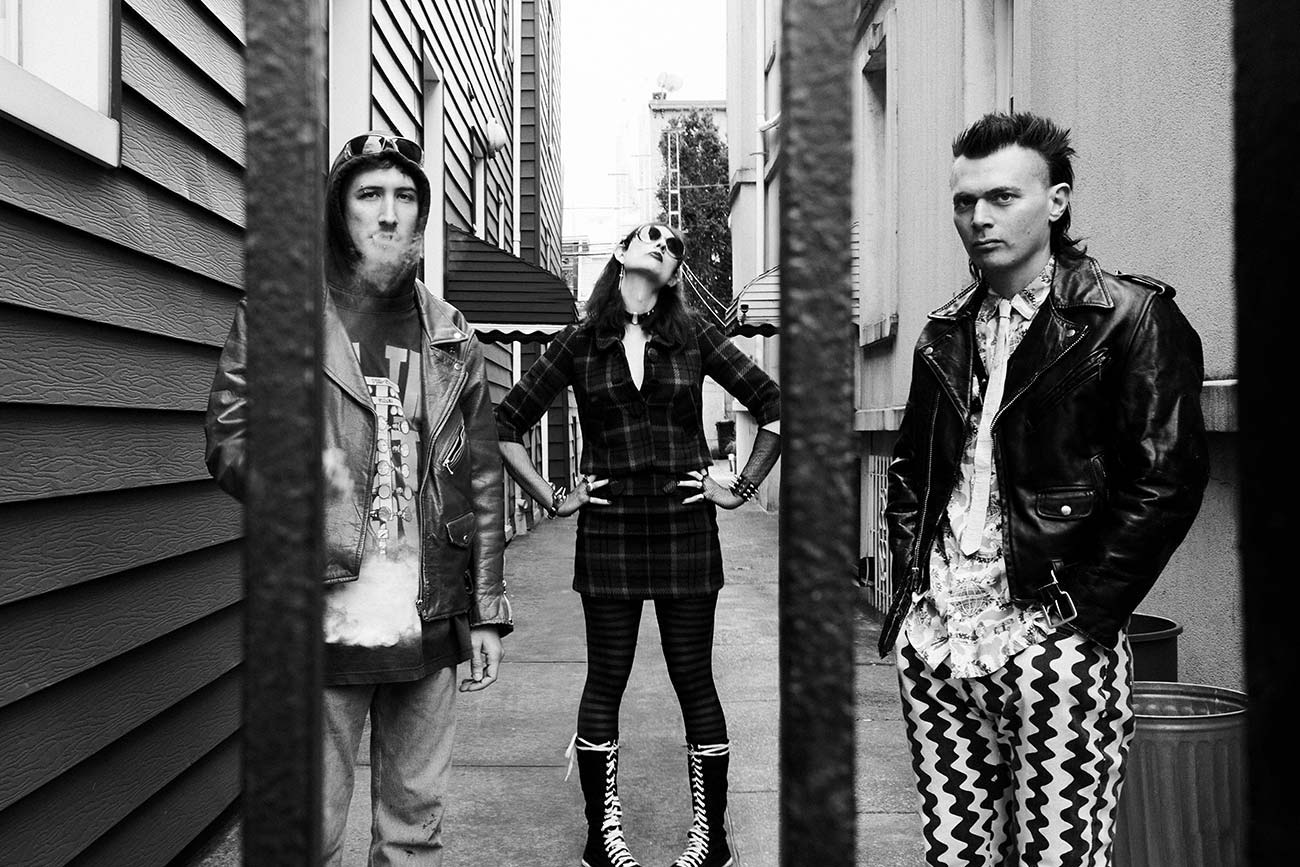 Chase Lombardo: Now you're raising yourself as a 13-year-old. What is the younger you doing that's going to get them grounded?
Seth Sosebee: I would get myself in trouble for biting my toenails with my teeth.
Julia Pierce: I was punished enough at 13, so I don't think I could ground myself.
Tom Person: My mom would force me to practice cello. I wanted to go play with my friends or read comics, but I wish I had practiced more.
Chase Lombardo: What is the most flattering band you get compared to?
Tom Person: Joy Division.
Julia Pierce: Rudimentary Peni or early Hole. We covered both for Halloween and people fucked with it. That was a huge compliment.
Seth Sosebee: The Birthday Party. Anytime anyone compares us to them I get super excited.
Chase Lombardo: Is there a band you would want to be compared to?
Tom Person: Madonna.
Seth Sosebee: More Sonic Youth would be cool.
Julia Pierce: Teenage Jesus & The Jerks.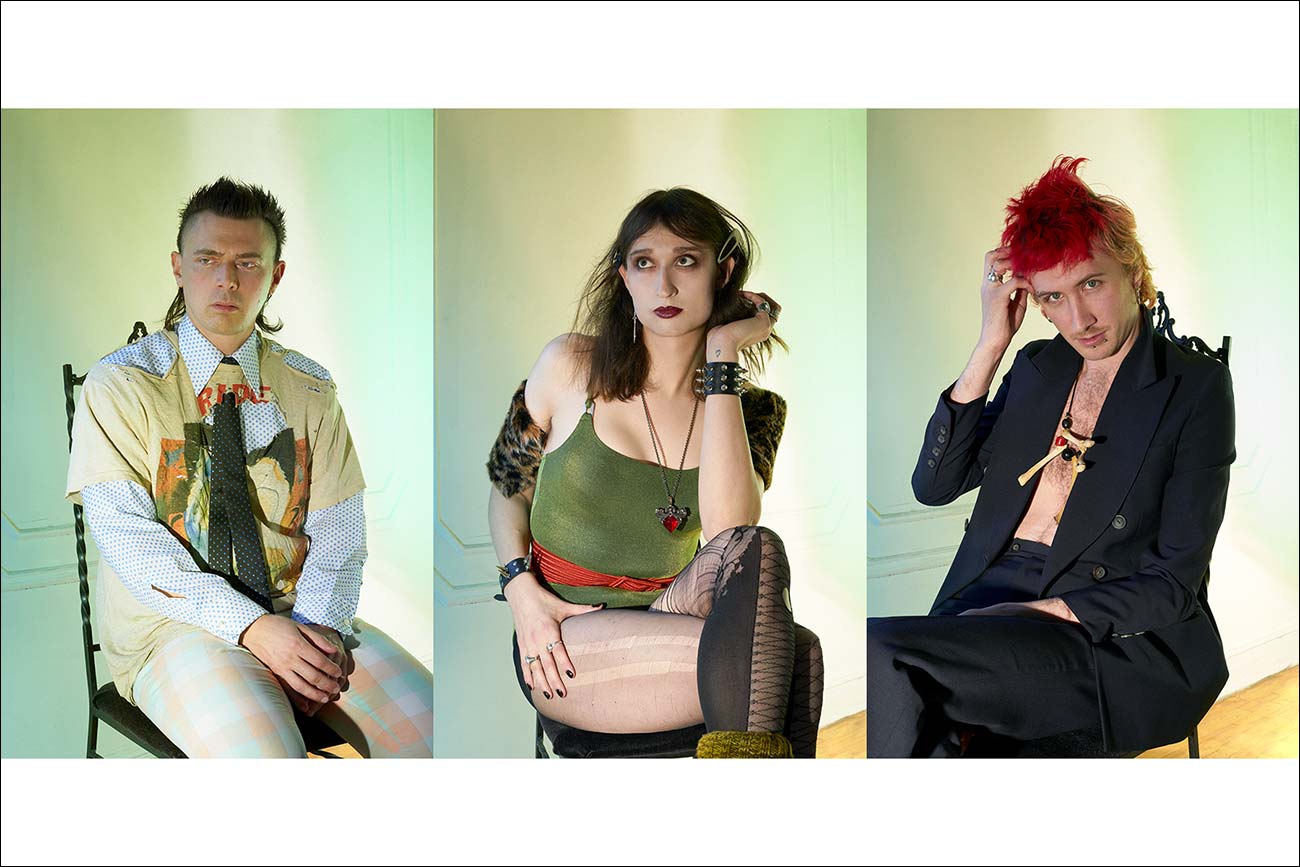 Chase Lombardo: Are y'all excited about music in New York right now?
Julia Pierce: There's a lot of good music in New York right now. Appreciate the genre-bending and that there's more trans-fronted bands.
Chase Lombardo: What New York bands are you into?
Julia Pierce: Cumgirl8, Christeene, The Dilators and Data Pool. We're also playing our single-release show on Valentine's Day with Pons, Theophobia, and Homade. Dylan Mars Greenberg from Theophobia directed our music video.
Seth Sosebee: Theophobia is the first band I played with when I moved here. It's like if Andy Kaufman and Sparks had a baby.
Chase Lombardo: Dream blunt rotation?
Seth Sosebee: Lord Buckley and Groucho Marx.
Tom Person: Alice Cooper and Salvador Dali.
Seth Sosebee: That's a lot of dudes. Maybe Carol Burnett?
Julia Pierce: Jesus and Kurt Cobain. We'd all get stoned and then I would ask them if they're trans. There was a line in Kurt's journal that was taken out of "All Apologies" that really stood out to me. It was "let me grow some breasts."
Chase Lombardo: Did you decide what you're wearing to the release show?
Tom Person: That gets decided the day of.
Julia Pierce: Something salacious.
Seth Sosebee: Probably cowboy boots and a leather jacket.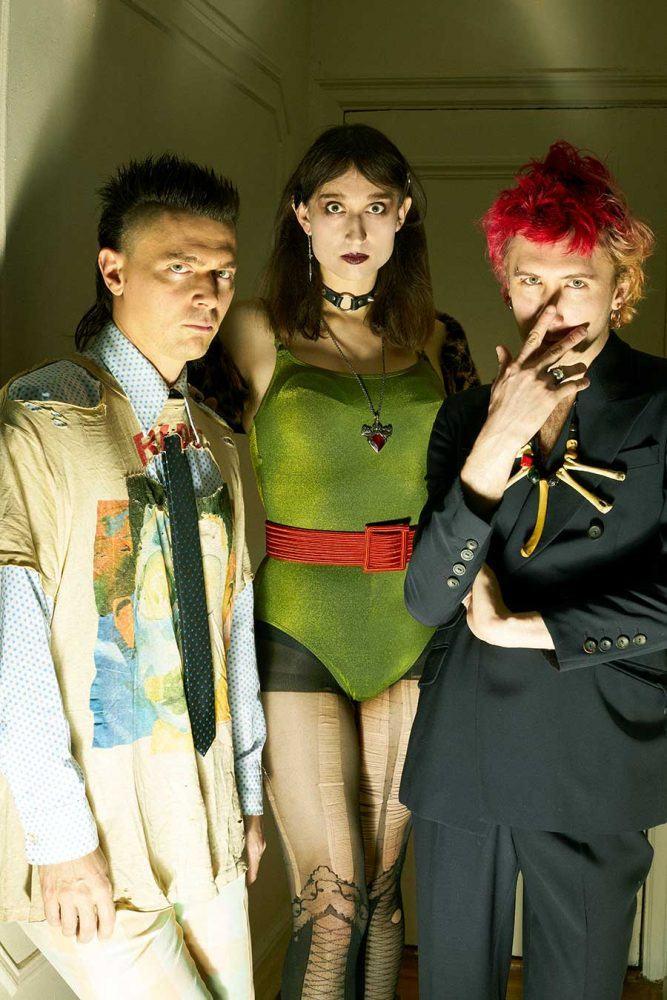 Chase Lombardo: What inspired your upcoming album, "Burn a Bitch"?
Julia Pierce: Wanting to create space for feminine rage. Thinking that a lot of rock music I've experienced in the last 10 years felt safe, I wanted to be a part of something dangerous. When I was working on "Burn A Bitch," I was reading Joseph Klaits' book Servants of Satan about the Basque witch trials in the early 1600s, where over 7,000 people, mostly women, were accused of witchcraft. I wanted to write songs with respect to my Basque ancestry and to honor the women who were unjustly persecuted for their liberated existences.
Chase Lombardo: Where did the genesis of the band name come from?
Julia Pierce: There are a few different ways to tell it, but originally we threw it out as a joke. We thought we had to come up with something more serious at first but then realized why do we have to be so serious? We wouldn't want to play shows anyway with people who are made uncomfortable by the name, and we want our name to help us attract the audience we want at our shows. After everything we've done this year it has somehow become normalized in a way. Like it doesn't have to be overtly sexualized upon hearing it and so what if it is? Same with cumgirl8, Girl Dick, and this new wave of sex-positivity, we're changing culture by existing. Existence is radical.
Seth Sosebee: A name like that weeds out the fakes.
Tom Person: Something about our name gives people the sense that certain behavior is permissible. Which is cool. You're at a Tits Dick Ass show.
Seth Sosebee: Let it all hang out.