---

---
Putting confusing feelings to words is what 25-year-old Milly Toomey, aka Girli, does best. As a "confused and chaotic twenty-something," her discography is full of queer love songs, breakup anthems, and honest reflections about her mental health struggles. Reserved caught up with the bubbly and effortlessly cool Milly to discuss the future of queer music, writing honestly about mental health, and her first (sold out) show in the US.
From London, she grew up loving English class, wanting to be a writer, and realized that she could communicate what she was trying to say by setting her stories to music. When she was 14, Milly started a band, but as a self-proclaimed "control freak," her band left her, and she started performing on her own at open mic nights. Around this time, she adopted the stage name 'Girli'. As an artist, Milly wants to subvert classically feminine stereotypes (like being "girly" and wearing pink). "When I perform and I wear all pink – my performances are really loud and visceral and punk," she says about the duality of her on-stage image, "Pink is for everyone and it's really empowering to take a color that has so much judgment and preconceived notions surrounding it and just say I'm going to make it whatever I want. [Pink is] powerful and strong."
For Milly, every song she writes is a "diary entry" and helps her process things that have happened to her. After a writing session, she comes out of the studio having a deeper understanding of herself. Milly is especially inspired by conversations she has with friends. She will write down things that are said to her and they will end up being a lyric. She's also really inspired by books – two of her current favorites are Sally Rooney's 'Beautiful World, Where Are You' and Patti Smith's 'Just Kids'.
This emotional honesty has translated to Girli's fans all over the world. At her first-ever US headlining show at Baby's All Right in Brooklyn, New York, a fan traveled all the way from London to be there for her career-defining moment. Milly loves meeting fans and chatted and took photos with every single person that waited in line to meet her after the show.
During 'Friday Night Big Screen,' an ode to Milly's favorite movies from the 90's and also about wanting to take someone on a date to the movies on a Friday night, every fan in the venue held up their phone lights and scream-sang every word.
"Yeah it's happening to me, this is life in the movie, you and me / I'll be your Buttercup, you can be my Westley / We can go drivin' 'round, lookin' all sexy"
Playing shows is Milly's favorite part about being an artist. She says that "Writing is like therapy and then performing it is the ultimate healing of whatever I'm writing about". Before playing 'More Than A Friend,' Milly asked the audience, "Who here is part of the LGBTQ community?" and the audience erupted into perhaps the loudest screams of the entire night.
In 'More Than A Friend,' Girli sings of the extremely confusing, thrilling, and uniquely queer experience of having feelings for a friend and not being sure if they feel the same way.
"When she bites her lip, looks at me like that, I wanna be more than a friend, more than a friend / Does she feel the same? Does she want me back? "
In the music video, Milly smacks aside the bowl of popcorn she was sharing with her friend just as the addictive chorus hits and they make out in her bed. 'More Than A Friend' has made quite the impact on the queer pop community, with the YouTube comments ranging from "Okay, this is the new 'I Kissed a Girl' now. Any objections?" to "I actually sent this to a girl I like and she agreed to go out with me".
When asked about the future of queer pop, Milly beamed and admitted, "I feel like queer people are taking over music, to be honest. Pop music history has been written by queer people and will continue to be." She then mentioned that she would love to do a queer bar hop of the world and how much she loves that queer people have created physical spaces where they can feel safe and comfortable. Milly's queer music inspirations include MUNA, Phoebe Bridgers, Janelle Monae, and Kim Petras.
Not only does Milly know how to put the feeling of falling in love and being in love into words, but she also writes expertly about breakups (perhaps for when the aforementioned friends-to-lovers relationship inevitably ends in crushing heartbreak). In 'Letter to My Ex,' Milly encapsulates the feeling of hating someone so much but somehow still having so much care for them.
"I wanna punch you, hug you, cry 'til it hurts. / I wanna hit you, quit you, sleep in your shirt."Currently on her first-ever US headlining tour, and racking up over 44 million streams and counting on "More Than A Friend,' Girli is part of the next wave of boundary-pushing queer artists that can't be put into a box – girly yet punk, emotionally vulnerable but incredibly confident. Girli's music is all about the depth and complexity of queer love. Her latest single, 'Cheap Love' is about being in love but not having a lot of money to go on luxurious dates or to buy each other gifts. At the Baby's All Right show, she described the feeling of being in love as "the richest feeling in the world."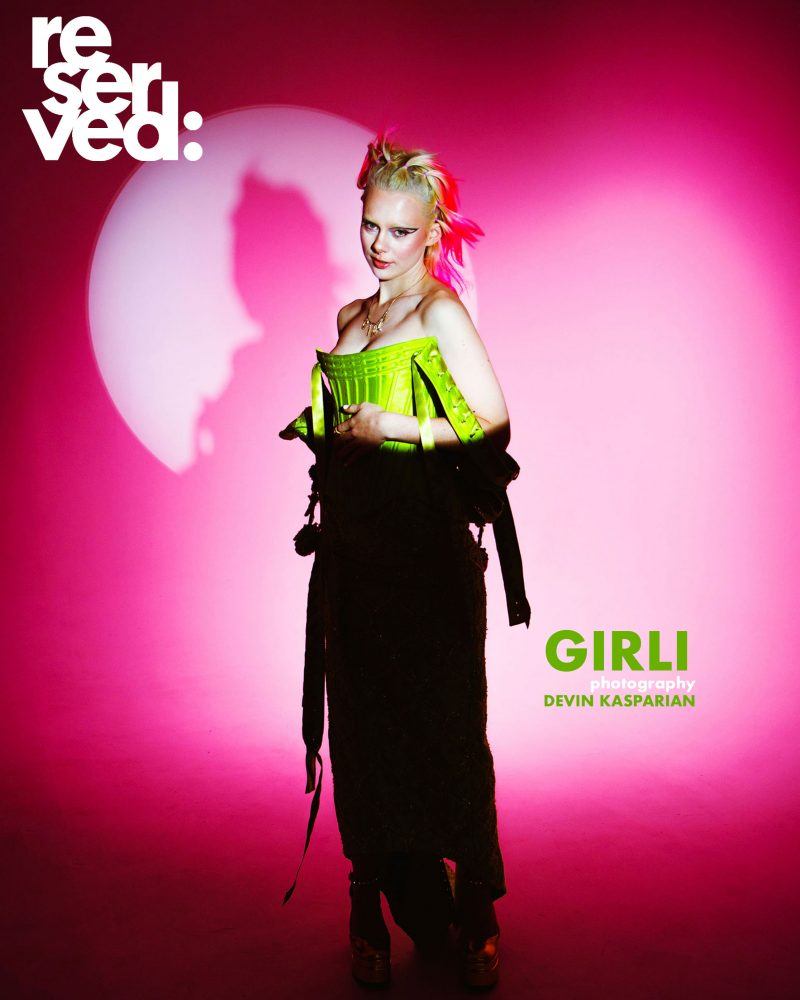 Written by Cameron Coughlin
Photographed and Produced by Devin Kasparian
Styled by Laura Spriet
Makeup by El Debratto
Photo Assistant Sophie Westergren
Reserved Editor BJ Panda Bear