---

---
Sean Lennon seems to have an understanding of that thing legends speak of. Jimi Hendrix called it channeling. Keith Richards describes it as grasping ideas that are already floating around out there, waiting to be harnessed. David Lynch likens it to catching fish, diving deep into your own consciousness in search of ideas. For Sean, "it's like listening to an internal radio, like you're tuning into something. And the more you shut up and quiet your mind, the more you can hear it."

The Claypool Lennon Delirium is one of those rare bands that make you smarter when you listen to their music. The second collaboration between Sean Lennon and Primus's Les Claypool, it's no surprise that their latest album, South of Reality, strives toward the apex of timeless storytelling and innovative music-making. The mood hovers around the spectrum of psychedelic rock, with dizzying bass riffs and otherworldly electric guitar. And when you tune into the lyrics underpinning the sounds, there are messages underneath. Like one of those magic eye pictures that comes into focus only when you stare into the psychedelic patterns long enough.

South of Reality takes us on journeys from our own human history, pondering the logic of international headline phenomena like Boriska, supposed "Indigo Child" from Mars born on Planet Earth in 1996 rural Russia, which, depending on the camp you're in, could mean that aliens have finally come back to observe their ongoing experiment. Or, it could be much more human than that: a young boy trying to please his mother with fantastical stories.

Is it a hoax? How can we really know? Life on Earth is a crazy thing.

The lyrics are a mixture of the mystical and the practical, the surreal and the human. The conflict between dreams and reality that leads some down the rabbit hole.

The album begins with "Little Fishes", taking the listener deep into the muck of the future or perhaps present state of the Ocean to observe mercury seeping through the skin of fishes, lyrics chanting "gone are the days when you can stick your toes in without a second thought". For "Blood and Rockets", we journey above sea-level to visit the human form of Jack Parsons; deranged, occultist rocket scientist who managed to found NASA's Jet Propulsion Lab before blowing himself up at the ripe age of 37 in his home lab. "Amethyst Realm" is from the perspective of a jilted lover whose woman has fallen in love with a ghost.

It's as if the Claypool Lennon Delirium is a visiting spaceship dipping down to Planet Earth only to zoom off again into the stratosphere, observing our antics with cosmic distance. Determining that humans are a finite species that the Earth will eventually, as in the final song, shake off "like fleas on the back of a dog".

When asked whether extinction looms for certain in our future, Sean says he trusts in the x- factor of unexpected technological innovations that have saved us throughout history in the nick of time.

"There's the great example of New York City. It was covered in horse shit in the Victorian times, before the car was invented. No one knew what to do because the city was so polluted, and the only way you could get the horse shit out was by bringing more horses in. So all the brownstones in New York are built eight to nine steps high because you had to walk over the stuff to get to your house. Literally, it was an environmental disaster because it was unhygienic. And overnight, Ford invented the Model T and suddenly all of these cars came in. Within a year or two, New York was clean, and that was that.

I think it's important to stay positive and to operate under the assumption that we're going to survive. You can't give up. Because if you do, you're pretending that you know what's going to happen, and the truth is we don't. We don't know if nanotechnology is going to be able to clean up all of the particulates in the atmosphere. We have no idea. You have to stay optimistic."

While working on the album, Sean and Les Claypool huddled together in Claypool's studio outside of San Francisco for about a month and a half. "We show up with five or six nuggets of song ideas to work on and we work through the songs together. We construct them together. We finish them off together. Usually when I go home, I'll work on the lyrics for whatever song I'm singing, and Les will be working on the lyrics for whatever song he's singing, and then we meet the next day. Do it all again."

As for messages he hopes to impart with his album, Sean is surprisingly humble.

"I think the way that we perceive song lyrics has changed. I don't really attempt to speak about things too directly, let's put it that way. Because it feels like if you do, it's a turn-off. That's all. And that's just me. I can't speak for anyone else."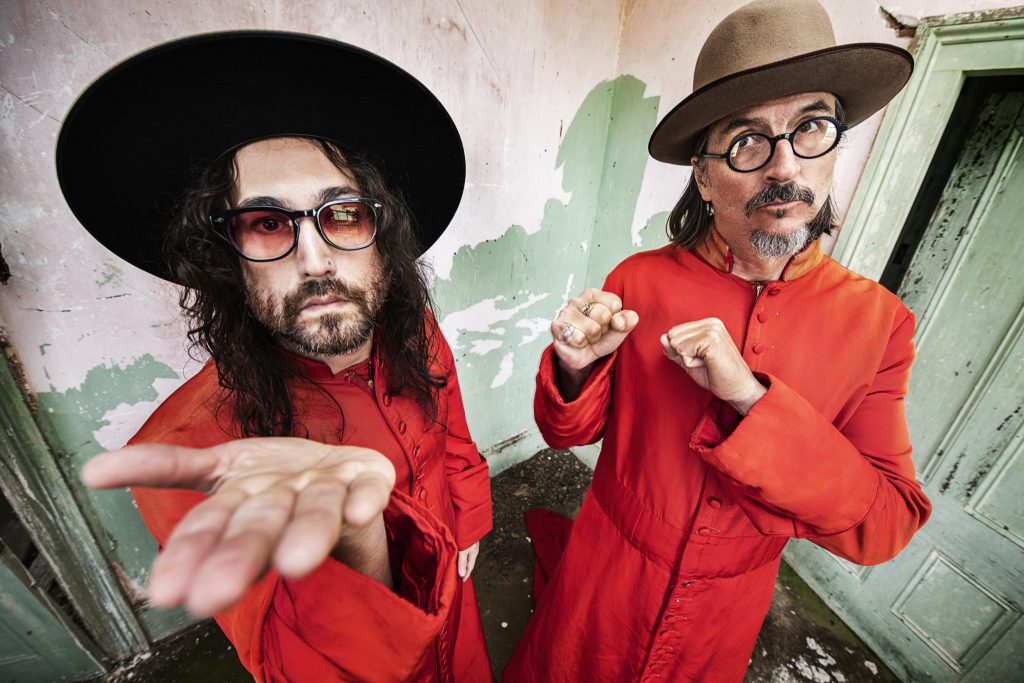 A good message to anyone hoping to survive on this Planet: The answer may not come to us directly. We have to tune in to the music and listen for ourselves.

You can purchase the Claypool Lennon Delirium's albums along with the work of other represented artists including Yoko Ono, Beanpole, and Uni on their record label, Chimera, "the smallest record label on Earth", at www.chimeramusic.com.

The Claypool Lennon Delirium will be on tour with the Flaming Lips, Particle Kid and Jim James summer of 2019 with a show July 3 at Los Angeles' Wiltern Theater. Check out all of their upcoming tour details at: www.theclaypoollennondelirium.com.